Executive Post Graduate Diploma in Management
Overview
Contemporary times are complex and unpredictable with market volatility, digital transformation, and innovation. Organizations are looking for business leaders who are global change-makers. Whether you are aspiring to move up the ladder or are about to take on greater leadership responsibilities, the Alliance Executive PGDM program is designed to bring about a full-scale transformation that empowers executives to create and renew competitive advantage for their organizations.
The program is contemporary, rigorous and is the right platform for goal-oriented, ambitious, career-focused working professionals who are on the lookout for career transformation. The 12-months weekend executive program allows working professionals to pursue a world-class management curriculum while allowing them the flexibility to continue their work along with the program.
The 12-months program focuses on developing specific knowledge and skill sets relevant for managers. With consistent records of success, this transformative program prepares you for senior management roles and accelerates your career growth.
Commence of the course
January 2020 & July 2020
---
Course Duration
3 Years*
---
Mode of Study
Full Time Course
Eligibility
---
A Minimum of 50% in graduation or equivalent
A Minimum of 2 years of full-time work experience
---
Twelve Months
Reasons to join
The 12-months programme aims to produce contextually relevant middle and senior-level managers with exposure to world-class management system prepared for a better future. Any executive who wants to enhance, broaden, deepen, learn, or develop new horizons of their career must pursue this programme.
Curriculum
The Alliance Executive PGDM programme is delivered in a blended mode. The programme is designed, developed, and assessed by Alliance's acclaimed and accomplished national and international faculty by seeking inputs from industry experts. The Executive PGDM is designed as an interactive and intense programme that is delivered through multiple pedagogical techniques.
Programme Outcomes
The knowledge of contemporary theories and practices in management
Skills to demonstrate leadership behaviour in a team ecosystem
Decision-making techniques and strategic viewpoint
An ability to analyse, evaluate and solve business problems through critical thinking
An understanding of global, economic and ethical aspects of business
Intellectual Capital
With the aim to develop future-ready leaders with analytical and leadership skills, Alliance's academic programs prepare business leaders for future and current market needs by equipping them with contemporary skill sets. Alliance has some of the best intellectual capital for futuristic growth consisting of:
About 200+ core faculty members from various disciplines
International adjunct faculty with global work experience
Adjunct and guest faculty from leading companies like TCS, Wipro, Vedanta, Essar with more than 20 years of work experience
Programme Structure
Quadrant
Courses
Level
A
Organizational Behaviour and Human Resource Management
Upon completion, a student will be eligible for a 'Certificate in Management Fundamentals'
Economic Principles & Power of Markets
Statistical Techniques & Data Analysis -1
Management and Financial Accounting
B
Digital Transformation for Competitive Advantage
Upon completion of Quads A and B, a student will be eligible for a 'Certificate in Applied Management'
Buyer Insights & Product Marketing
Data Analytics for Decision Making-2
Proficiency in Business Finance
C
Competition & Strategy
Upon completion of Quads A, B, and C, a student will be eligible for an 'Advanced Certificate in Management'.
Production & Operations Management
Global Dimensions of Management & International Business
Corporate Governance & Ethics
Capstone Simulation
D

Option A

Three elective courses across specializations
Project Work

Executive Post Graduate Diploma in General Management

Option B

Three elective courses from a specific specialization
Project Work

Executive Post Graduate Diploma in a chosen specialization stream
Specializations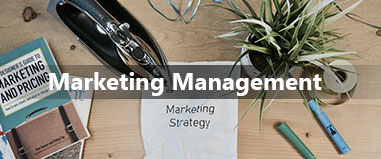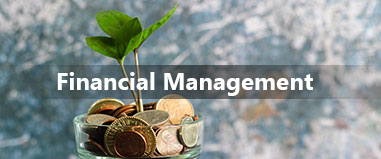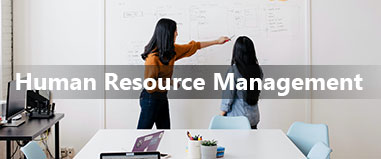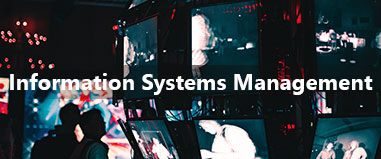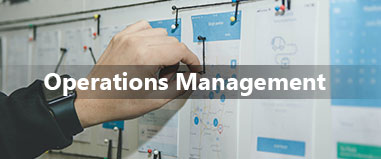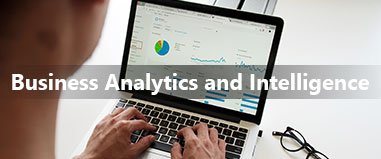 Corporate Sponsorship Programme
Organizations create opportunities for learning and development for their talented performers by helping them to accelerate their careers through advanced learning and by sponsoring enrollment in rigorous and carefully crafted management programme specially designed for working professionals. This allows the organizations to continue receiving their insights and groom them for senior positions.
Alliance School of Business welcomes all such high-potential, sponsored candidates to its Executive Education programme.
Participant Profile
The alumni and current students of the programme have come from diverse industries, organizations, backgrounds, educational profiles and experiences. They represent leading organizations, such as, TCS, Wipro, Infosys, Red Bull, Mindtree, Cognizant and Honeywell, to name a few.
The common things among the participants include:
Enthusiasm for learning and career enhancement
Recognized work experience
Potential for leadership roles
Fresh approaches for business practices
Participants across various sectors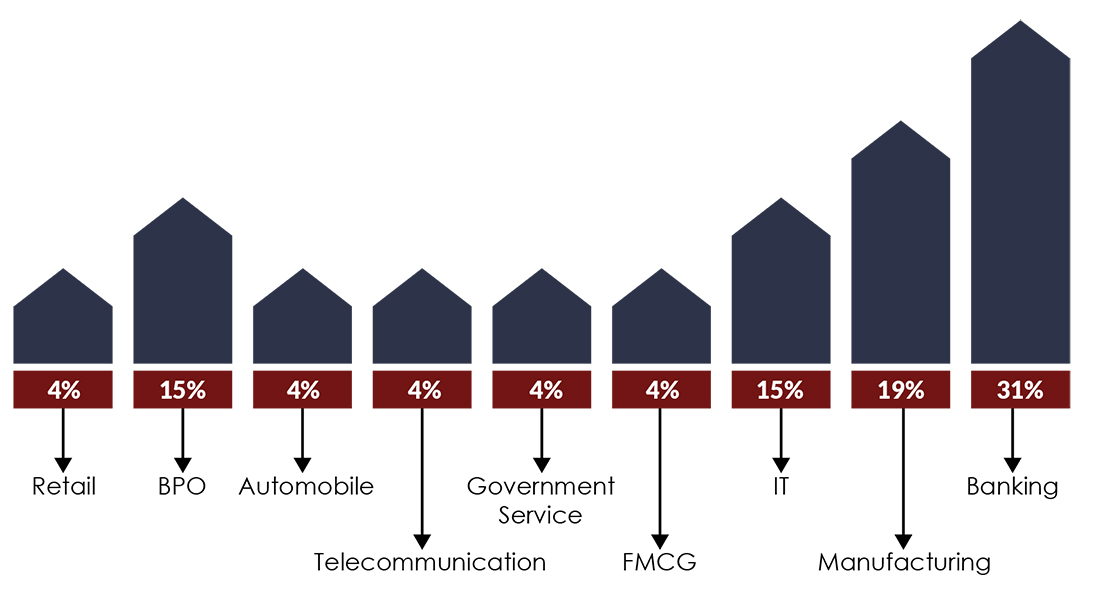 Work experience of participants
| | | |
| --- | --- | --- |
| Accenture Services Pvt. Ltd. | Oracle | Hinduja Global |
| Jhonson & Jhonson Ltd. | Control Components India Pvt Ltd | Solutions |
| ACS | Oriental Structural | Target Corp India Pvt. Ltd |
| JP Morgan | Engineers Pvt. Ltd. | Hmd Nigeria |
| Allegis Services India | Convergys India Pvt. | Tata Consultancy Services |
| Kirloskar Electric Co. Ltd | Services Ltd. | Honeywell |
| ANZ | Pharma Leaf | Tech Mahindra |
| Manthan Systems Pvt. Ltd. | Dell | Hotel Leela Venture Ltd. |
| Aon Hewitt | Polaris Software Lab Ltd. | Tesco |
| Mastek Ltd | Deloitte India Pvt. Ltd. | HSBC |
| Apollo Hospitals | Qwest Telecom | The Oberoi Hotel |
| Mercedes Benz | Deutsche Bank | I Gate Patni Global Solution Ltd. |
| AT & T | Realbridge Consulting Pvt. Ltd. | Times of India |
| Micro Labs Ltd. | First American (Indian) Pvt. Ltd. | Ibm India Pvt. Ltd. |
| Axa Technology Service | Releance Communications | Titan Industries Ltd. |
| Microsoft | Frontier Business Systems | Ifb Industries Ltd. |
| Axis Bank | Reliance Vision Express | Toyota Kirloskar |
| Misys Software Solutions India Pvt. Ltd. | GE | Indian Airforce |
| Akzo Nobel India Ltd. | Reuters | TVS |
| Mphasis Limited | Genpact | Indian Oil Corporation |
| Barclays Bank | SAP | Volvo |
| Naizak (Uae) | GMR Group | Infosys Technologies |
| Biocon | Sasken | Velosis Systems Pvt. Ltd. |
| Nevion Middle East | Goldman Sachs Service Pvt. Ltd. | Ing Vysya Bank |
| Bosch Limited | Sevcon | Wipro Technologies |
| Northern Trust | HCL Technologies Ltd. | Intel |
| Buhler India Pvt. Ltd. | Siemens | Yahoo |
| Nous Infosystems | Hdfc Bank | Jet Airways |
| Cable Wireless Worldwide | Sonata Software Ltd. | Yokogawa India Ltd. |
| Mmantel | Hewlett Packard | Yell Adworks Inida Pvt. Ltd. |
| Capgemini | Symphony Services | Zydus Cadila Healthcare Ltd. |
Students Speak
Every year, more than 300 executives from different reputed organizations have been pursuing the Alliance Executive PGDM to hone their management and leadership skills. By the end of this program, they develop the insight and competencies, broader perspectives required for senior managerial roles. The students gain in-depth knowledge in chosen specializations, while honing their potential to attain leadership positions.