Overview
The university provides an ideal environment for young minds to explore new ideas encourages critical thinking to develop lifelong learning skills. Apart from academics, students are naturally driven towards participating in their areas of interest, activities like sports, cultural fests, festivals, leadership, and development programs. A digitally provided modern library, comfortable and homely living quarters, world-class health services, green campus, laboratories equipped with modern technology, latest sports and recreational facilities, an intellectual powerhouse, and a multi-cuisine dining area making the Alliance University campus vibrant and State -of- the- art.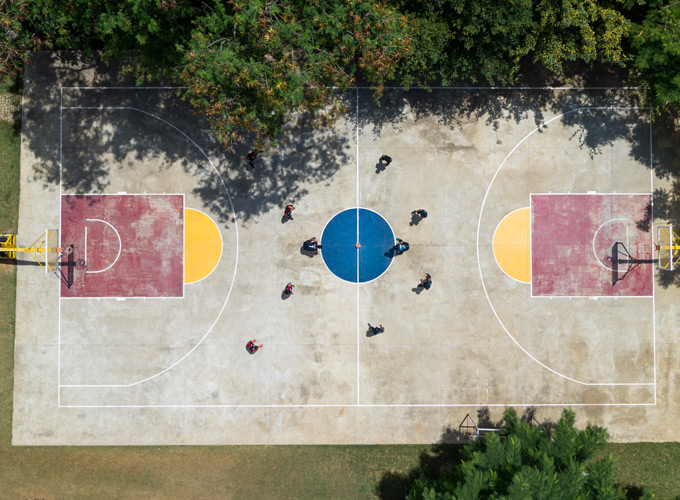 Sports & Recreation
The campus facilitates various indoor and outdoor sports and recreation activities, aiding student wellbeing. We channel the sports in enabling students to learn new skills, values like discipline, teamwork, leadership, mental and emotional balance, team spirit, mutual respect, and punctuality.
The sports and recreation facility at Alliance include:
Gymnasium
Mini Field (for cricket, football, frisbee)
Running Track
Dance / Zumba Studio
Yoga Studio
Badminton Court
Table Tennis
Basketball court
Volleyball Court
The gym enthusiasts, yoga lovers, and the dance/Zumba freaks are guided by expert instructors.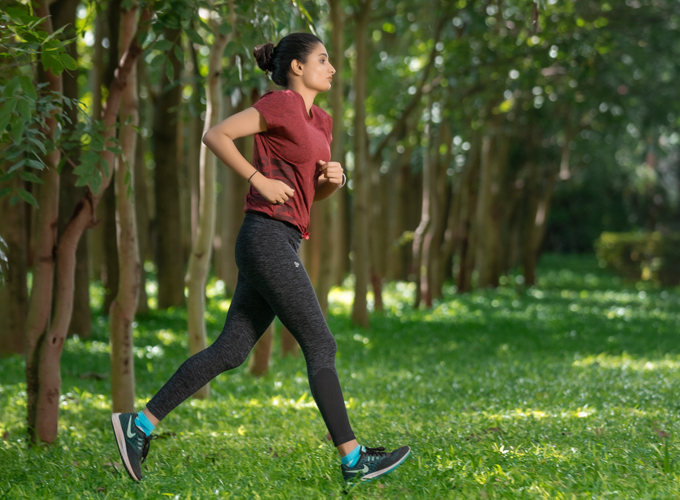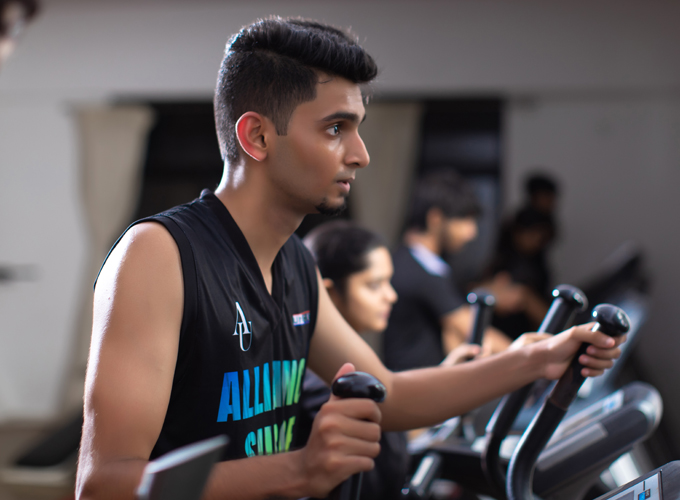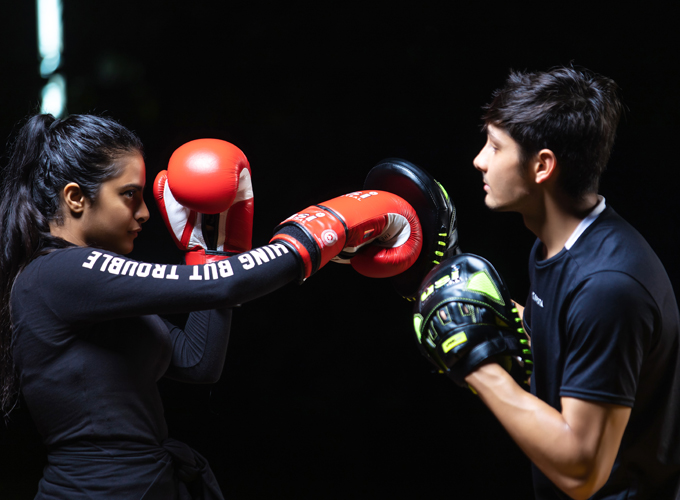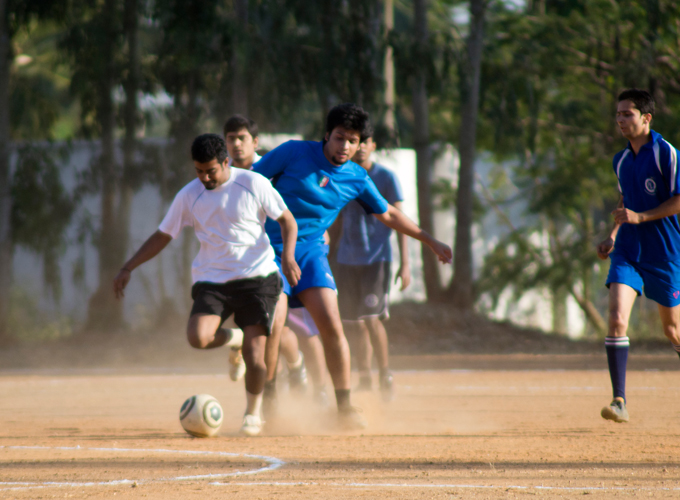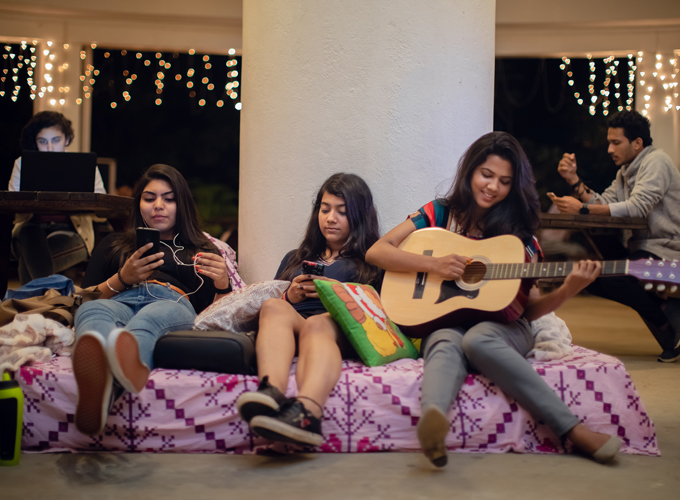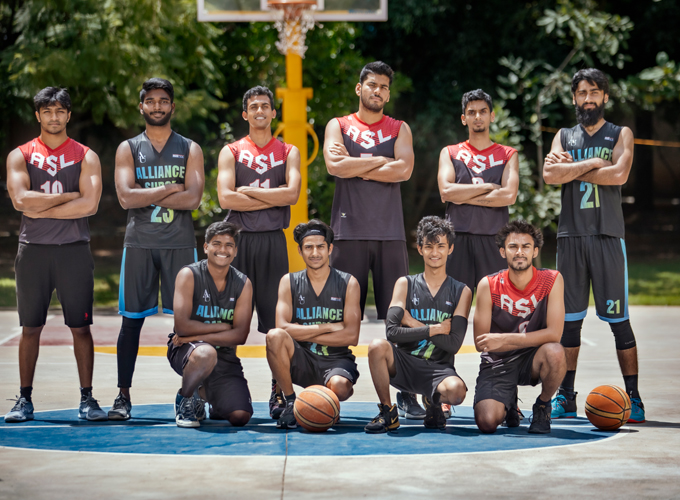 Students Health and Wellbeing
We understand the importance of health; thus, Alliance takes care of its student's health and wellness. From physical health to mental and emotional well-being, Alliance provides all types of support to its students and faculty. The resident doctor, small emergency medical room, and round-the-clock ambulance are available for students and staff members. In addition, the well-experienced psychological counsellors bring you some of the unique and best ways in which students can take care of mental and emotional health.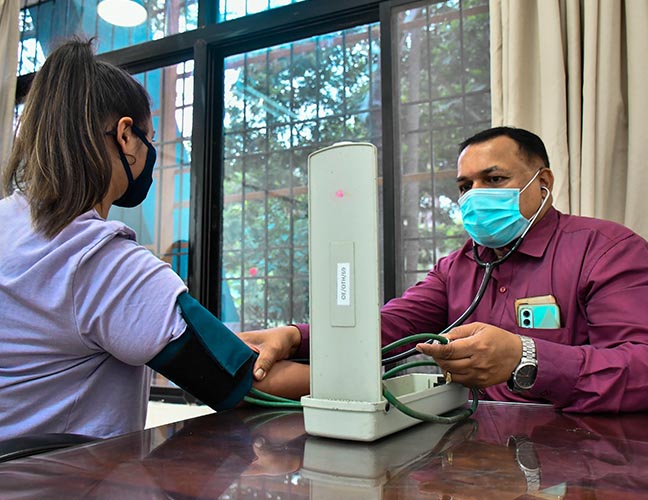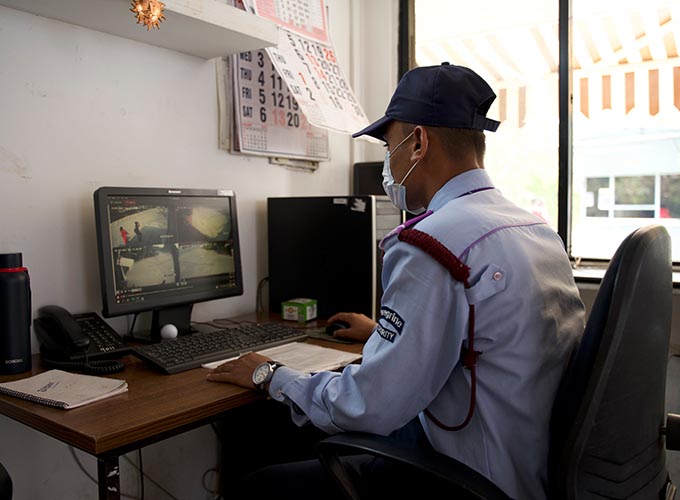 Security and Safety
Alliance University has a dedicated security chief for its campus. We understand the safety of the students; thus, our entire campus, including the residential area, is well secured, with round the clock security. The campus has an appropriate access protocol to provide a hassle-free environment to its students. Security guards are always available at the main entry and exit doors of the main building and the hostels. Trained wardens and support staff, make the stay at halls of residence safe and memorable.
Dining & Food Court
The university's modern, well-lit dining halls ensure that students get the best dining experience. A state-of-the-art kitchen with the best equipment ensures a wide array of multi-cuisine delicacies are served under proper hygienic conditions. We are engaged with one of the finest caterers in the health and education sector with proven track record in culinary expertise with chefs from Taj. The food service is available at self-service only. Apart from the daily menu at the food court, Aromas- one of the restaurants on campus provides best- in-class multi-cuisine dishes to the student community and university members.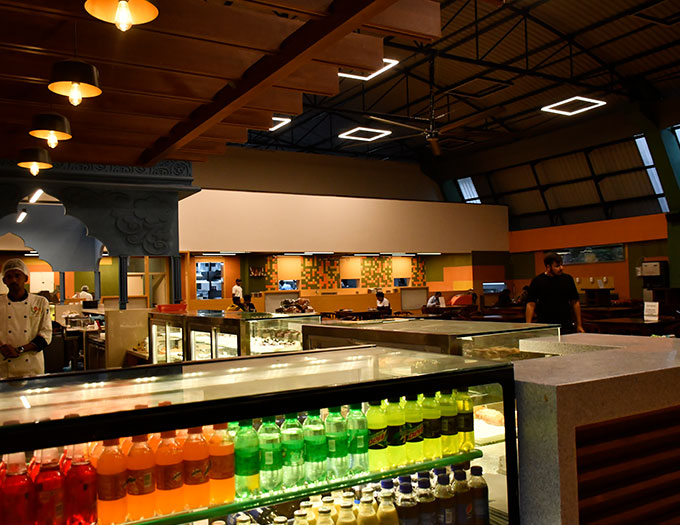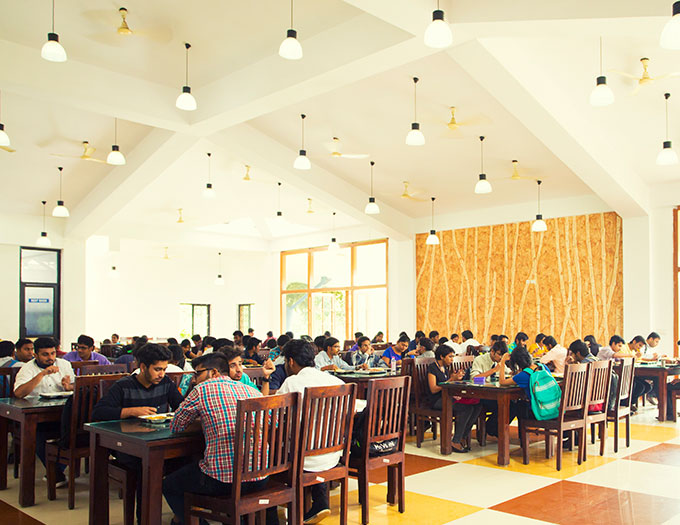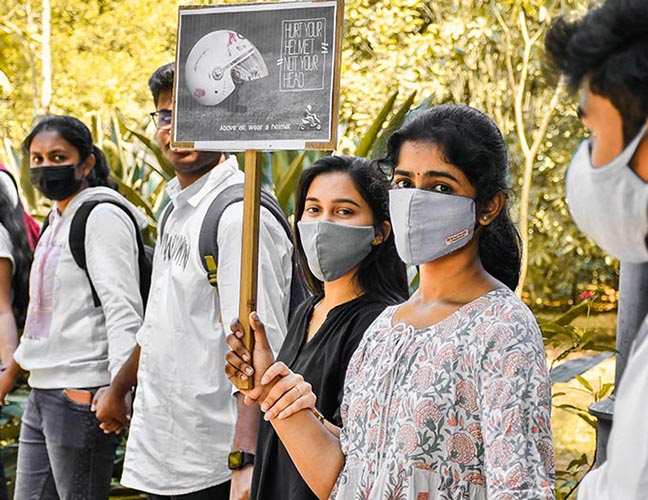 Students Driven Clubs & Societies
The university has various clubs which students can join to sharpen their skills. Clubs ranging from marketing, music, organizational leadership and strategy, debate, dance, documentary, and job-oriented clubs ensure that students understand the critical issues, hone their skills, and prepare them for a better future. Prometheus, Marketrix, Genesis, Praxeis are some of the student-driven clubs.
Library
The Alliance library, spread in 50,000 sq. ft, adds a helpful page to the knowledge experience. The library is equipped with all modern facilities and provides a conducive learning environment for the students for their learnings and research. The university has a massive volume of print media and online resources. The print collection includes books, journals, case studies, research papers.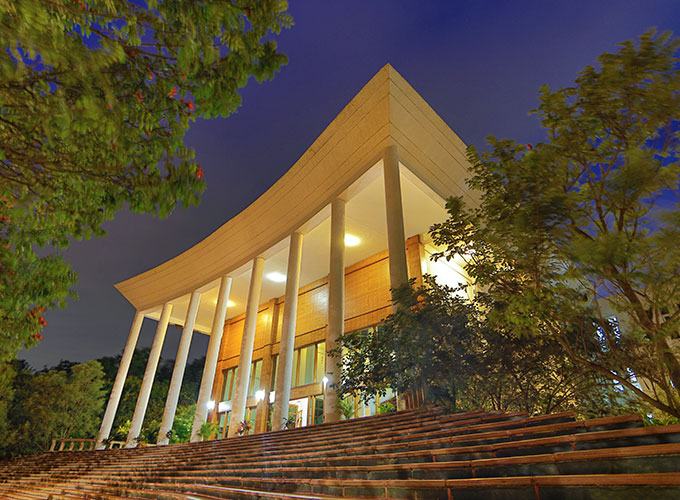 Celebrate @ AU
The Alliancians get ample opportunities to showcase their talent through various events. The university celebrates all-important national festivals and days. From Republic Day to Onam, Diwali to Lohri, the university celebrates each festival with great pomp and show. The university hosts various activities like debate, dance, drama, treasure hunt, writing competitions, fashion shows, and more. Apart from this, the university hosts various inter and intracultural events and fests.
Transportation
The university is well connected with the city and has the best transportation facility for its students, staff, and faculty as a benefit of association. The buses ply on the different routes to pick up and drop off students and university members to all areas of the city. Regular inspections, checks, and cleaning of buses are done to ensure safety and security of all members who commute. Our bus drivers are well-trained and go through periodic upgrades of training, aiding in improvement of driving skills.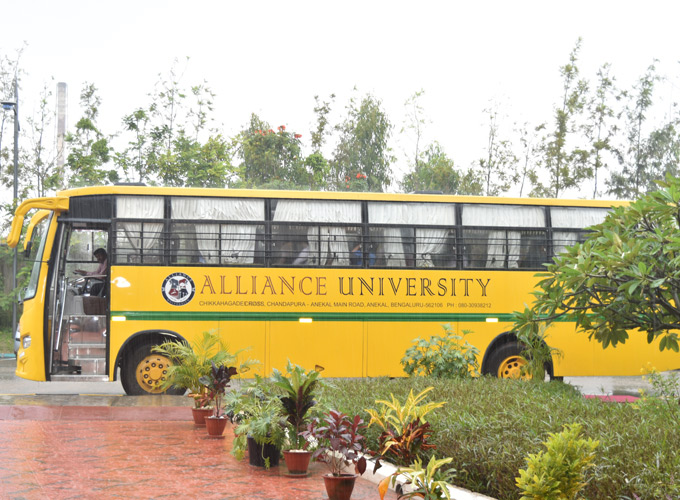 Amenities
Alliance believes in creating a comfortable and liveable environment inside the campus through comprehensive support. While the campus is embraced by nature, we provide all other basic amenities ranging from ATMs, saloons, bookstores, and modern laundry rooms that are equipped to handle the needs of all resident students.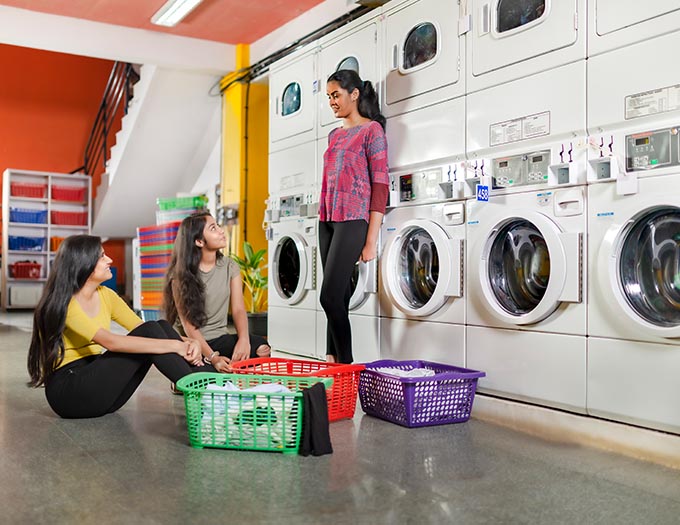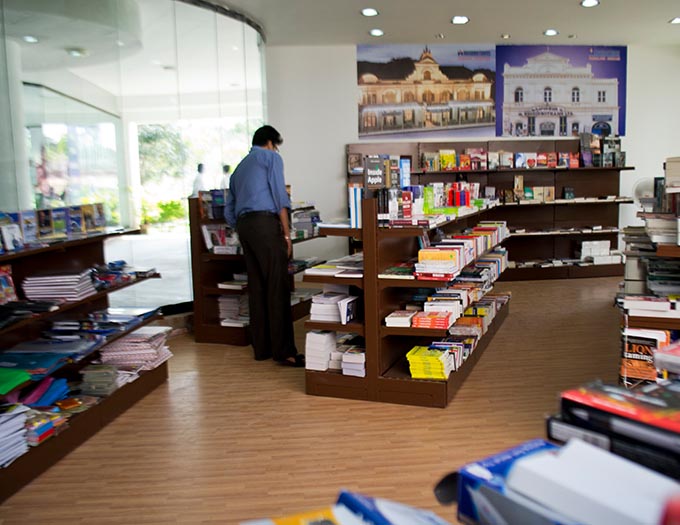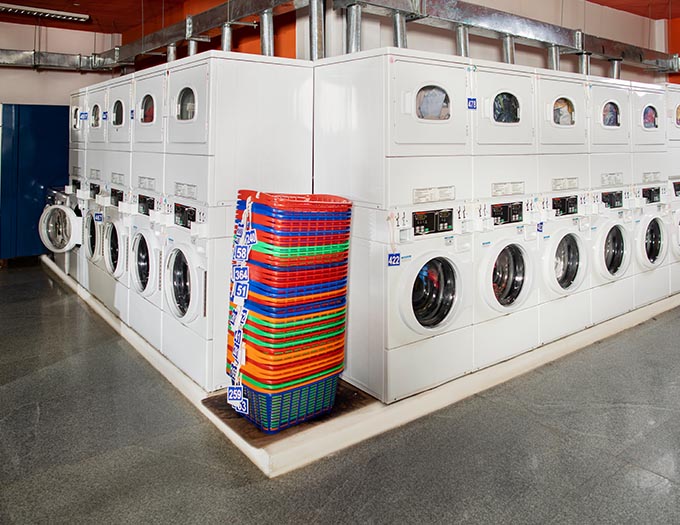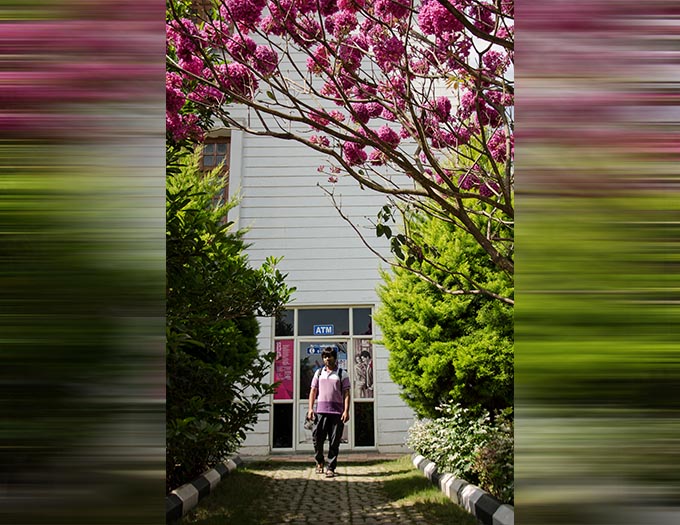 Halls of Residence
The residence life at Alliance university welcomes students from across the globe. They create an inspiring and leading place to grow and learn. The Alliance students who live on the campus during their college life, gain a lifelong experience. In addition, they take full advantage of clubs, libraries, and other facilities in shaping their future.
We understand the 'value of a home' and thus, try to provide "A HOME AWAY FROM HOME '' to our students. With this mindset, the university offers all comforts and security of international standards. The campus has SEPARATE HOSTELS for BOYS and GIRLS. The wardens are well trained to handle the students and their issues.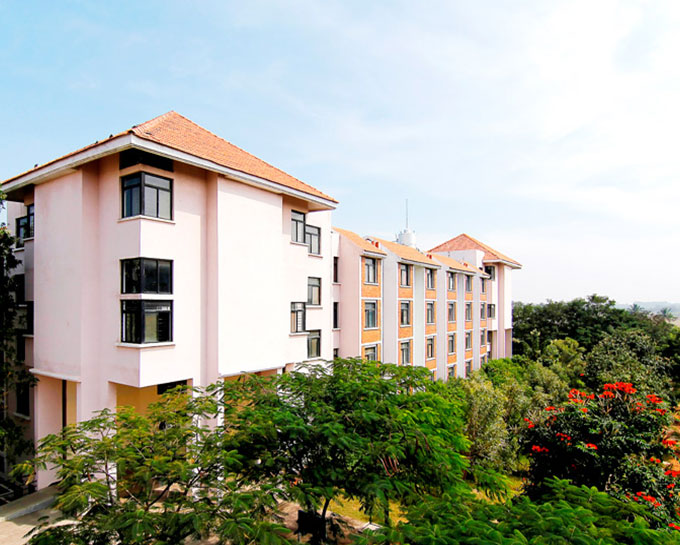 The hostel rooms are available in:
• Single Room
• Double Sharing Room
• Triple Sharing Room
The hostel rooms are very spacious and have all the basic amenities like almirah, bed, chair, table, and round-the-clock internet. The allotment of hostel rooms is available on a "FIRST COME, FIRST SERVE" basis.
Anti-Ragging and Sexual Harassment Prevention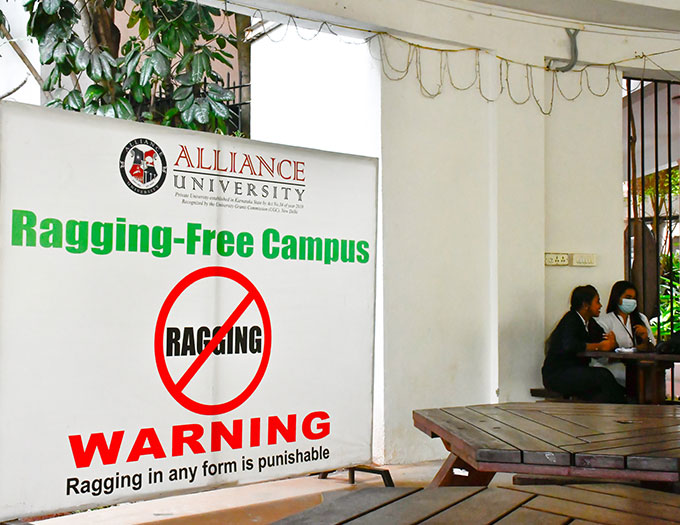 Any ragging or sexual harassment activity is strictly prohibited inside the campus. If any student is found in ragging activity, they will be expelled immediately from the campus, and Alliance will initiate action against them. In addition, Alliance maintains a complaint committee as per POSH guidelines to ensure impartial hearings. The committee aims to protect all the students and university members, irrespective of their gender. The grievance redressal committee provides an unbiased hearing and ensures all grievances are resolved, ensuring transparency and justice. In addition to this, the university also has a disciplinary committee that carefully monitors student conduct and ensures safety and well-being of all concerned stakeholders.
Student Social Outreach
Alliance students are deeply engaged in the community and social services. The students participate in social impact activities like tree plantation, village adoption, social awareness drives, educating the underprivileged, blood donation camps, joy of giving, keeping in true spirit of Alliance vision.