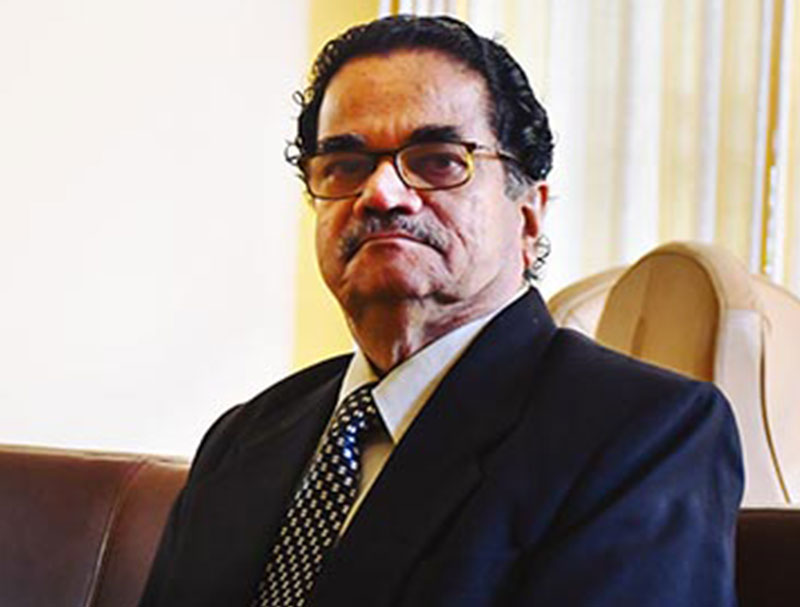 Prof. Premanand Shetty
Chancellor Alliance University
Prof. Premanand Shetty comes with a strong academic background and brings with him more than 40 years of national as well as international exposure. Prof. Shetty has worked in the public and private sectors, and has been a part of multinational and multicultural workforce environments both in the industry and academics.
Prof. Shetty is a triple Post-Graduate and double Diploma Holder. Prof. Shetty is a postgraduate in Commerce, Law and Business Administration i.e., M. Com. (Banking), LL. M., (Labour) and MBA (HR & Finance) with Diplomas in German Language and Computer Applications.
He was a registered consultant with Asian Development Bank (A.D.B.) and Commonwealth Fund for Technical Co-operation (C.F.T.C.). Prof. Shetty was on the rolls of the Bar Council of Mumbai and he was also a Registered Attorney in the Supreme Court of Nauru, a Nation in the Central Pacific.
Prof. Shetty has authored research papers in various national and international conferences. His area of research interest is in the field of Law and Human Resources. He also conducts Management Development Programs and workshops for corporate executives on management as well as law subjects.
Prof. Premanand Shetty is also a professor in General Management as well as in Law. He expertise is in the areas of business law, constitutional law, corporate law, jurisprudence, labour and industrial law, intellectual property and contract law. Prof. Shetty has also served as the Dean of Alliance School of Law, Alliance University.
Prior to joining Alliance, Prof. Shetty has held senior positions in the legal and human resource departments at S.D.M. Educational Society, I.C.D.S. Ltd., and Syndicate Bank.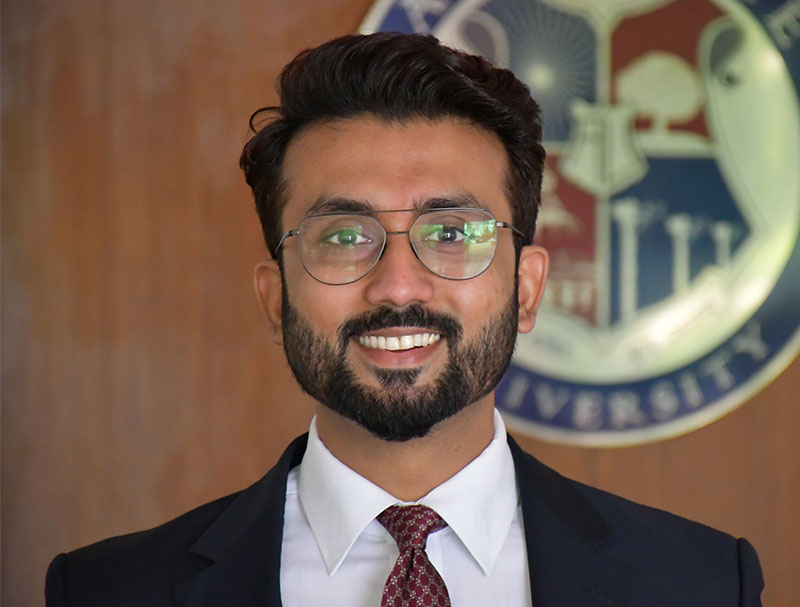 Mr. Abhay G. Chebbi
Pro-Chancellor & Office of the Vice-ChancellorAlliance University
Technophile and an astute entrepreneur are words that best describe Mr Abhay Chebbi- Our Pro-Chancellor. The progressive use of emerging technologies to enhance scalability aiding in enhanced effectiveness has directed the University in becoming a pioneer in academic digitization and under his able guidance, the University transformed the teaching-learning process during the pandemic, to a hybrid model, displaying readiness to embrace change.
Mr Abhay has held several key positions, before assuming the leadership role at the University. The most prominent being his responsibility as Director-Admissions, responsible for student intake across courses for the entire university. Under his able leadership, the university witnessed a steady increase in student intake, both in quality and diversity. During his stint, he also built strong international linkages with prominent global universities in Germany. With an MBA from the University of Michigan, Mr Abhay has mastered the art of sound entrepreneurship coupled with social impact outreach. His efforts to uphold the United Nations's Sustainable Development Goals, witnessed Alliance University being elevated to a founding member status at PACT 2030, an initiative by QS to promote institutional participation in fulfilling the sustainable development goals.
Under Mr Abhay's guidance and with the use of modern cloud structure, artificial intelligence and data mining the university is working towards providing access to high-quality interactive learning through the "Department for Continuing Education". which will offer certification courses, executive education, and several standalone training programs that will focus on enhancing employability skills that will be delivered by renowned academics and industry practitioners.
Mr Abhay is also passionate about fitness, poetry, travel, and self-development. As an observer, he deeply values life, the interactions that emerge subsequently with people across myriad situations and is mindful of change being the only constant.
Dr. Anubha Singh
Vice-Chancellor Alliance University
Prior to assuming this responsibility, Dr. Singh has worked in many different capacities at the University— Pro Vice-Chancellor (Academics, Research & Strategy), Dean of the Alliance School of Business, Director of International Affairs, Chairperson—Placements, to name a few.
Dr. Singh, a talented coalition builder, brings significant expertise and rich experience in international development. She has established 47 partnerships with reputed universities in 15 countries, specifically, 26 articulation agreements in Europe; 13 in North America and 8 in Asia. She has developed 23 exchange programs, 11 dual degree programs, 9 credit transfer programs and has been very effective in making significant contributions in the field of sustainable global development.
Dr. Singh has served on numerous international bodies and committees including the President of Asia Region of International Assembly for Collegiate Business Education, USA.
Dr. Singh has published numerous scholarly articles, reviews and research papers. She has provided consultancy to Microsoft Research Lab India for parallel corpus for statistical machine translation, and annotation and verification on the multilingual systems research. She is the co-author of Management Communication – A Case Analysis Approach with James S. O' Rourke IV. Dr. Singh serves on the editorial board of numerous journals. She has presented papers in several conferences, conclaves and summits around the world. As a Cross-Cultural Management & Strategic Communication Trainer and Consultant, Dr. Singh has closely worked with leading Indian and Multinational organizations. She also actively engages with the industry through Management Development Programs. She holds a Ph.D. from Banaras Hindu University and held a fellowship during her research. She earned the prestigious Jawaharlal Nehru Memorial award for academic excellence during her post-graduation in Linguistics. She also has certification in Computational Linguistics from Indian Institute of Technology, Delhi and certification in Natural Language Processing from University of Hyderabad. Her main research interests include international higher education landscape, cross cultural management, human resource management and linguistics.
Dr. B Priestly Shan
Pro Vice-Chancellor (Academic Affairs)
Dr. Shan earned his Ph.D. in Bio-Medical Engineering from Anna University before which he obtained a Master's degree in Communication Systems and a Bachelor's degree in Electronics and Communication Engineering. On the professional front, Dr. Shan has held prominent academic and administrative positions such as Pro Vice-Chancellor - Academic Affairs and Dean in leading universities and institutions in the country. Under his leadership, many key initiatives were spearheaded such as establishment of Centre for research in Space Science and Technology, Centre for Research in Unmanned Aerial Vehicles, and Centre for Research in Remote Sensing. His expertise also lies in the areas of fostering strong industrial relations; formulating academic policies and frameworks; introducing innovative teaching and assessment methods; leading accreditation processes; etc. Furthermore, Dr. Shan has demonstrated his commitment to quality standards through his ISO 9001:2015 Lead Auditor (QMS) certification and his expertise in Zero Effect, Zero Defect manufacturing auditing, an initiative by the Government of India. As a Master Trainer for MSMES on ZED certification with CII, he has played a pivotal role in promoting excellence in manufacturing practices.
Dr. Shan's areas of interest encompass Signal Processing and Computer Vision. He is currently engaged in pioneering research on Space Technology and Remote Sensing Applications. His vast knowledge has been shared through hundreds of lectures at various prestigious forums. He has published over 70 research papers and has successfully guided many scholars, fostering a culture of academic excellence. Notably, Dr. Shan's contributions extend beyond academia, as he has actively served as a reviewer for esteemed international journals and held memberships in prominent professional organizations such as IEEE (Senior Member), ISTE, Institution of Electronics and Telecommunication Engineers, Quality Council of India (QCI), and Computer Society of India. He has also been associated with CII in the evaluation of Low-Cost Automation projects for industries in the context of Industry 4.0.
With his exceptional qualifications and dedication to academic excellence, Dr. Shan is poised to play a vital role in advancing Alliance University's vision of delivering world-class education and fostering a culture of research and innovation.
Dr. Ray Titus
Pro Vice-Chancellor (Incubation and Innovation ) & Dean, Alliance School of Business
Dr. Ray Titus holds a Doctorate in Business Administration from SMC University, Zug, Switzerland and an MBA from the International Management Institute, Belgium. He completed his Post Graduate Program in Management (Business Analytics) from IMT, Ghaziabad and topped his undergraduate studies in Hotel Management from IHM, Trivandrum. Ray is a certified Six Sigma Green Belt awarded by KPMG. Dr. Ray has taught courses as Visiting Professor at IIM Bangalore, SP Jain Center of Management, Dubai & Singapore, Asian Institute of Technology, Thailand, and the Institute of Product Leadership. As a Consulting Advisor at Sphere Thoughts, a Bangalore based Research & Consulting Firm and as a Marketing Consultant, Dr. Ray aids clients in generating buyer insights, building go-to-market and growth strategies. Dr. Ray is the founder of Dabit Lab, a digital habits research lab that uses mixed method research techniques to generate depth-driven user insights.

Listed as a 'Consumer Lifestyle Expert' by Economic Times, Dr. Ray is frequently invited as a speaker on consumer and lifestyle related topics. He is the author of 3 books namely, 'Round the Clock: How a Digital Marketplace is Transforming Business' (Sage, 2018), 'Yuva India: Consumption & Lifestyle Choices of a Young India' (Random House, 2015) and 'Business Drama - How Shakespearean insights help leaders manage volatile contexts' (co-author, Zorba, 2014). His business articles and expert comments have featured in leading Indian and global media publications. His blog, 'Buyer Behaviour' has been featured among leading business blogs.

Dr. Ray's entry into academia followed a decade long stint in Industry where he served in Operations, Marketing, Project, and Strategy roles. As an Industry professional he has formulated and executed growth initiatives that include portfolio and category expansions, product introductions, and the launch of an independent strategic business unit. His industrial stint saw him managing service and retail operations at the Taj Group of Hotels, India and the Landmark Gulf Group, Dubai. As the Marketing Head at INI Technologies, Dr. Ray oversaw market and product development initiatives, and while at Coffee Day, Ray spearheaded the launch of Coffee Day Xpress as an independent Strategic Business Unit. In executing growth strategies for businesses, he has forged cross-border strategic alliances and custom-designed franchising models for market expansions.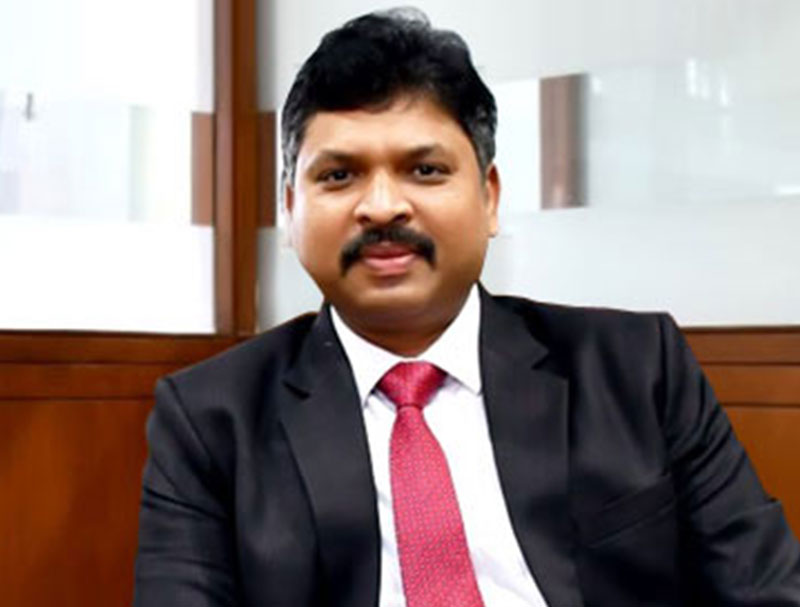 Mr. Prakash S. Budur
Pro Vice-Chancellor (Banking, Finance, Development & New Initiatives) Alliance University
Mr. Prakash S. Budur is the Pro Vice-Chancellor (Banking, Finance, Development & New Initiatives) at Alliance University. Prior to assuming this role, Mr. Prakash has worked as Chief Financial Officer at the University and successfully steered the finance functions of the University, contributing immensely to its growth while successfully interfacing with all departments of the University including policy planning, banking relations, monitoring & compliance with statutory bodies, infrastructure development and other critical functions. Mr. Prakash was responsible for strengthening financial tie-up's and overseeing strategic planning initiatives of the University. As one of the Directors at Alliance Business School, the sponsoring body of Alliance University, Mr. Prakash has been instrumental in promoting the growth and development of the University.
Mr. Prakash holds an MBA from Bangalore University and has also completed DCA from Manipal University. He is a member in Karnataka Small Scale Industries Association (KSSIA); a professional member of the Press Club of Bangalore; and is on the advisory board of several FMCG and hospitality based companies. Mr. Prakash is passionate about technology and innovation; community development; and social service. Mr. Prakash has been a voice for the marginalized and oppressed, and has worked rigorously towards social justice and equality.
Dr. Samir Ranjan
Associate Pro Vice-Chancellor (Academics & Research) and Professor
Faculty of Management Studies & Commerce
Dr. Samir Ranjan is a senior professional in the area of Quantitative Finance. He holds a Ph.D. in theoretical physics from Purdue University, Indiana, USA; an M.S. in Mathematical Finance from Columbia University, New York; and a Master's in Physics from St. Stephen's College, the University of Delhi.
Dr. Ranjan has over a decade of experience in the financial industry and many years in the area of Decision Sciences in the U.S.
Dr. Ranjan is very well known and sought after for his expertise in his niche area of Mathematical Finance. Some of his recent engagements include work on credit risk models for the World Bank and being a Senior Strategic Advisor to Rising Ahead on a number of business initiatives of the company.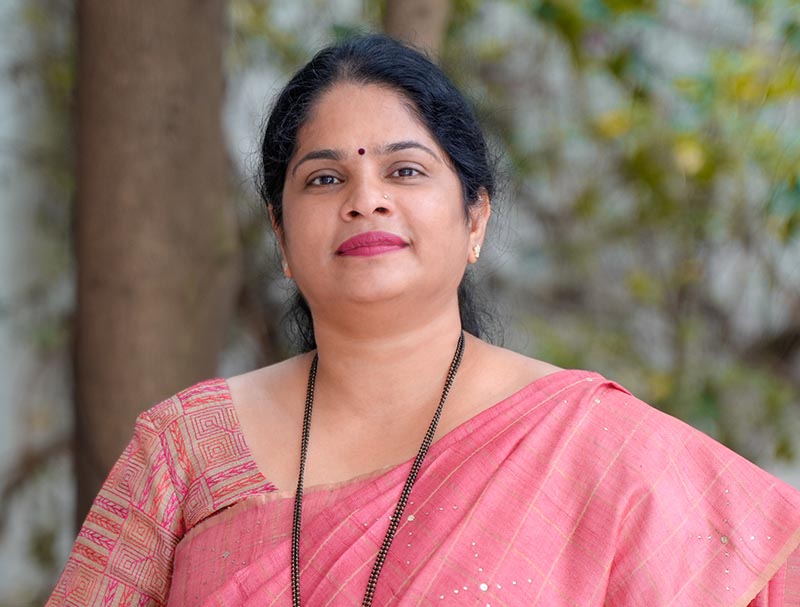 Ms. Surekha Shetty
Registrar GeneralAlliance University
Ms. Surekha Shetty holds the position of Registrar General at Alliance University, where she has devoted over twenty years to nurturing and enhancing academic excellence. Her educational foundation includes a master's degree in business administration, which she has effectively combined with practical acumen throughout her career journey. Ms. Surekha has held various leadership roles at Alliance University, including Senior Director of the Office of Admissions, Alumni Relations, and Career Advancement and Networking, showcasing her versatile capabilities.
In her capacity as Registrar General, Ms. Surekha's strategic vision plays a pivotal role in shaping the institution's growth and prominence. Her extended tenure at Alliance University has paved the way for cultivating a diverse and exceptional student body, establishing the university's trajectory. Notably, her oversight of Alumni Relations initiatives has yielded enduring connections that extend well beyond graduation.
Ms. Surekha's expertise in fostering Career Advancement has notably contributed to Alliance University's reputation for producing graduates well-prepared for the industry. Her initiatives to establish strategic partnerships with prominent industries and promote impactful placements have effectively bridged the gap between academia and the professional realm.
Furthermore, her active participation as an Executive Member of the NHRD Bengaluru chapter underscores her commitment to professional development and networking. This role underscores her status as a thought leader within the realm of human resources and organizational development.
The professional standards upheld by Ms. Surekha reflect a harmonious balance between humility and influence. Her unwavering dedication to empowering students, strategic foresight, and transformative impact encapsulates her role as a prominent thought leader at Alliance University.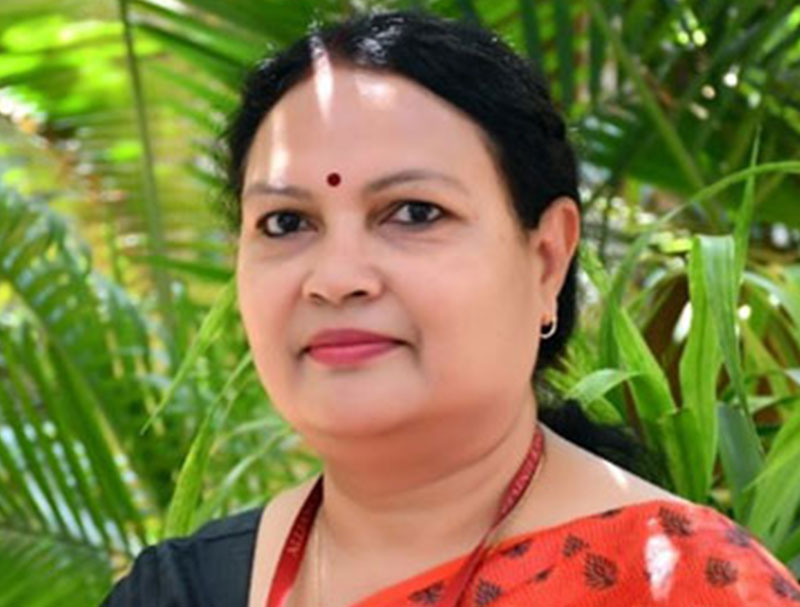 Dr. Nivedita Mishra
RegistrarAlliance University
Dr. Nivedita Mishra holds a Doctoral Degree in Psychology. She completed her Master of Philosophy and Master of Arts in Psychology with specialization in Cognitive Psychology. Her research was focused on reconstructive memory.
Before taking over the responsibility of Registrar (Administration), she served for eight years as Deputy Registrar, Examination & Evaluation at Alliance University. She was Chairperson of the 'Alliance Centre for Women Empowerment' and was also part of various committees and sub committees.
Her previous work experience includes Assistant Registrar, Examinations at Teerthanker Mahaveer University, Moradabad, Uttar Pradesh. She has held a teaching and administrative position as Principal in a reputed Women's Degree College where she received Certificate of Appreciation for setting up excellence in discipline, education & responsibilities. She has also worked as Co-ordinator in Special Study Centre for women IGNOU, New Delhi.
PUBLICATIONS:
2015 "Gender Sensitization in Universities" published in Innovative Business Management: A contemporary Approach [ISBN 13:978-93-5110-105-5]


2006 "Bhartiya Sanskriti main Baudha Dharma Ka Yogdan" in the national journal – Baudh Sanskriti – Vividh Aayam [Budhist Culture – Multi Dimensions]


2005 "Manovaigyanic avadharnaon Ke Pariprekshya main Prem Chand Ke Upanyaas" in a famous Hindi academic magazine named 'Dastavej'.


2002 "Paryavaran Evam Vyavahar" published in the Magazine – Interdisciplinary Dialogue – published By Academic Staff College, DDU, Gorakhpur University, Gorakhpur.
Dr. Michael James Barnes
Dean – Alliance School of Business Faculty of Management Studies & Commerce
Dr. Michael James Barnes holds a Ph.D. from Case Western Reserve University, Ohio; MBA from Stanford University, California; and a B.Sc. (Hons.) from the London School of Economics.
Dr. Barnes has a wide experience in varied academic roles across the globe such as Principal and Chief Academic Officer; Chair of the Accounting & Finance Department; founding Dean and Professor of the School of Business & Economics; Assistant Dean for Action Learning & Corporate Liaison; MBA Director; to name a few.
Before entering full-time academia, Dr. Barnes worked for more than two and half decades in international banking including appointments as Executive Director of Lazard Asset Management (UK) and Union Bank of Switzerland (UBS), Deputy General Manager of The Industrial Bank of Japan (IBJ), and Investment Officer with The World Bank, Washington DC.
Dr. Reeba Korah
Professor and Interim DeanAlliance College of Engineering and Design
Dr. Reeba Korah holds a Ph. D. from Anna University, Chennai and is specialized in Signal Processing and VLSI Design. She has a vast experience of over 28 years in the field of engineering academics, administration and active research. Prof. Korah is an alumnus of Marathwada University, Maharashtra and Anna University, Chennai. Her technical expertise spans VLSI design, image and video processing and wireless sensor networks.
She has about 70 research publications to her credit in reputed international journals and conference proceedings. She has authored five books pertaining to electronics engineering. Dr. Korah serves as a doctoral level research supervisor in Anna University and Sathyabama University, Chennai. She has produced ten Ph. D. holders so far. She is also a doctoral committee member in these universities. She serves as a reviewer for the reputed Elsevier International Journal of Micro Electronics and Emerald Compel International Journal for Computation and Mathematics in Electrical and Electronic Engineering. Dr. Korah is the recipient of the Karnataka Government's research funding to establish a Centre of Excellence in Electronic device modelling and VLSI Chip design.
Dr. Anirudh Sridhar
Associate DeanAlliance School of Liberal Arts
Dr. Anirudh Sridhar received a D.Phil. from the University of Oxford in 2020. His Ph.D. thesis at the University of Oxford received the highest honours reserved for the thesis in the humanities and recommended for publication with the Oxford University Press. He holds a Master of Arts from University of Freiburg, Germany, and Bachelor of Science from State University of New York-ESF, USA.

Dr. Sridhar is the co-editor and co-author with Derek Attridge of 'The Work of Reading: Literary Criticism in the Twenty-First Century', a polemical intervention that argues against certain methodological trends in the humanities and for the rehabilitation of close reading. The book was #1 on the Amazon new bestseller's list in literary theory for June, 2021.
Dr. Sridhar's interdisciplinary approach in the humanities with his studies in environmental law and marine biology brings scientific, legal, historical, and philosophical perspective into literary studies. Apart from this, he has taught many interdisciplinary courses at the Universities of Freiburg and Oxford in British and American philosophy and literature.
Prof. Mihir Dash
Interim Associate DeanAlliance School of Applied Mathematics
Prof. Mihir Dash is a specialist in mathematical and statistical modeling. Prof. Dash is actively involved in teaching a variety of courses, including Business Mathematics, and Business Statistics, Operations Research, Econometrics and Mathematical Economics, and Operations Management, and in research activities and projects. Prof. Dash's research interests are diverse, touching several areas of management, and involving applications of quantitative methods in business decision problems.
Dr. S. Prakash
Dean - Research
Dr. S. Prakash is a renowned academician with an extensive background in teaching, research, entrepreneurship, and startups, spanning over 24 years. He has made significant contributions to several educational institutions in Tamil Nadu and Kerala. Dr. Prakash holds an MBA from Bharathiar University, Coimbatore, and an MFT (Master of Foreign Trade) from Pondicherry University. He has completed his doctorate in the field of Systems and Finance.
Driven by a deep interest in research, entrepreneurship, and startups, he has successfully secured funding from various prestigious agencies such as DST, EDII, TIFAC-DST, AICTE, and ICSSR, totaling over Rs. 24.20 crores. Some of his notable achievements include:
Founding and serving as the Chief Executive Officer of Nehru Group of Institutions Technology Business Incubator, which has received a grant of Rs. 16 crores from the Department of Science and Technology, Government of India, focusing on the domains of Healthcare and IoT.
Successfully obtaining a grant of Rs. 4.87 crores for the New Generation Innovation and Entrepreneurship Development Centre (NewGen IEDC) from the Department of Science and Technology, Government of India. This project aims to support over 150 student innovative projects in various multidisciplinary domains with financial assistance of Rs. 2.5 lakhs per project per year.
Furthermore, Dr. Prakash has received financial support of Rs. 94.5 lakhs from the Department of Science and Technology, Government of India, and EDII, Ahmedabad, for organizing 86 Entrepreneurship Awareness Camps, 22 Faculty Development Programs, 15 Entrepreneurship Development Programs, and 10 Technology-based Entrepreneurship Development Programs. Additionally, he has organized an IPR Awareness Program with the support of TIFAC-DST, Government of India.
Prakash has also secured funds from AICTE under the AQIS Scheme of Rs. 15.03 Lakhs to conduct FDP & STTP in areas such as Data Science & Big Data Analysis, Data Analysis & Structural Equation Modelling using SPSS & Smart PLC, and ICT based on Intellectual Property: Copyright, Trademark, and Patents.
He has actively contributed to academia by serving as the Chief Convener for a Ten-day ICSSR course on "Research Methodology in Social Science for Ph.D. Scholars," supported by ICSSR with a grant of Rs. 5.5 lakhs. He has chaired sessions at numerous international and national conferences and coordinated Faculty Development Programs.
Dr. Prakash's mentorship has led to the creation of 78 student startups, with 41 of them achieving commercial viability, technology transfer, and pursuing patents. His collaborations with reputed companies such as TCS Academic Interface Program, TCS Drone Innovation Centre, and Tech Mahindra Makers Labs, Pune, have facilitated the establishment of Centers of Excellence. His ultimate goal is to nurture students to become "Job Creators, not Job Seekers."
He has a remarkable publication record, with 29 papers published in international journals and his research work presented at more than 26 international conferences. In recognition of his excellence in academia, he was honored as "Best Professor of the Month" by Higher Education Review magazine in July 2014. Additionally, he has successfully guided two Ph.D. students to completion and is currently mentoring nine doctoral research scholars.
Dr. Prakash actively contributes to the academic community by serving on the editorial boards of seven international journals and being a member of the academic council for autonomous colleges. He has played key roles as a coordinator for NBA and NAAC and autonomous committees. He holds life membership in several prestigious associations, including the American Management Association (AMA), Coimbatore Management Association (CMA), Association of Scientists, Developers, Faculties (ASDF), and Madras Management Association - Student Chapter.
He has also enriched his knowledge through international visits to countries such as the USA, Russia, Singapore, Malaysia and Thailand.
In summary, Dr. Prakash is a highly accomplished academician with a strong passion for teaching, research, and entrepreneurship. He serves as an exemplary role model for students and is dedicated to helping them unlock their full potential.