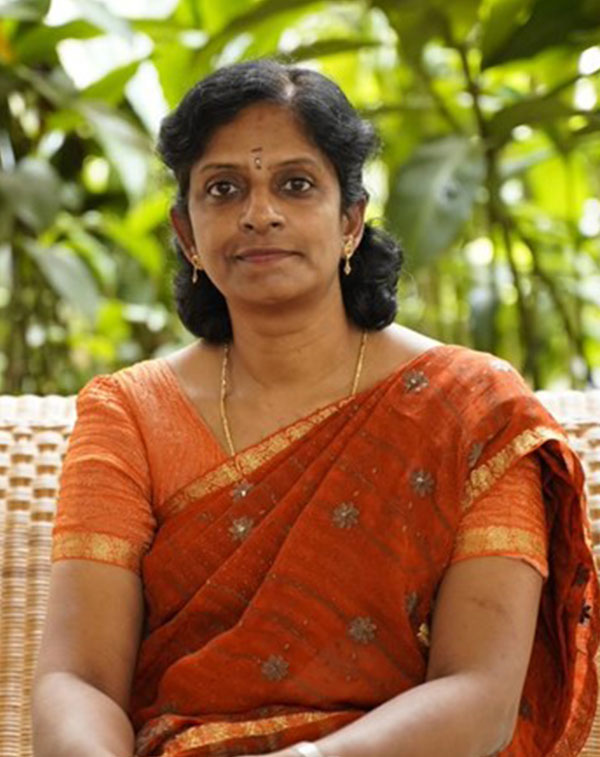 Dr. Aparna Pavani
Associate Professor
Alliance School of Business
Dr. Aparna Pavani holds a Ph.D. in Finance from Department of Commerce and Management Studies, Andhra University and a master's degree in Accounting and Business Administration. She has been in academia for more than two decades teaching at graduate and postgraduate levels. Her areas of teaching & research are Financial Inclusion, Financial Management, Security Analysis & Portfolio Management and Financial Accounting, Cost and Management Accounting.
Dr. Aparna has various research articles and publications in journals of repute. She has been a part of various consultancy projects with BSE and MCX. She uses of various methodologies for effective teaching in class. She is an active member of various professional bodies and has been into various administrative positions with different organisations.
Dr. Aparna got a patent published with the Patent Office Journal (IPR) titled, "methods for providing trusted and secure E-Commerce transactions". She has authored a book titled International Business.
Financial Inclusion in India: Current Status and Future Prospects, IUP Publications, Treasury Management, Secunderabad.
International Journal of Management Studies, Vol – VI, Issue – 1(2), January 2019, "Financial Literacy of MSMEs in Vizianagaram District – A Study on Critical Factors on select variables". ISSN – 2249-0302.
International Journal of Science, Technology and Management, Vol. No. .5, Issue No.08, August 2016, "A Study on Indian Rural Banking Industry – Issues & challenges. ISSN – 2394 – 1537.
Finance India (Dec 2020), "Perception of the Entrepreneurs on Financial Inclusion - A Study in Vizianagaram District of Andhra Pradesh". (Publication in Progress).
International Conference on Strategies for Business Excellence: Challenges and Opportunities – The Business of Financial Inclusion: Insights from Banks in Emerging Markets, MALLA REDDY COLLEGE OF ENGINEERING AND TECHNOLOGY, Secunderabad. ISBN: 978-93-83038-47-3.
Research & Consultancy Projects:
Micro, Small and Medium Enterprises (MSMEs) - Prospects and Challenges, Indian Institute of Banking and Finance (under progress).
Project Report submitted to BSE - An Initiative of BSE Investor Protection Fund "A study on How disclosure laws impact on Market efficiency with reference to SEBI and LODR Regulations", BSE India Limited, Mumbai.
Internal Funding Project in KL University.
Project on "A Study on Futures Trading in Commodities with special reference to Rubber" submitted to Multi - Commodity Exchange of India Limited, Mumbai.
Patents:
Published Indian Patent titled "Methods for providing trusted and Secure E –Commerce Transactions, dated 19th Nov 2021.
Book Publication:
Published Book titled "International Business" from Redshine Publisher PVT LTD, March 2022.
Administrative experience as In - charge Head of the Department (MBA) at Pydah – Kaushik College of Engineering, Visakhapatnam, Andhra Pradesh,
Board of Studies member at KL University, Guntur, Andhra Pradesh.
Finance Research Group Head at KL University, Guntur, Andhra Pradesh.
Placement member for Finance club (CRT) at Maharajah Institute of Management Studies, Vizianagaram, Andhra Pradesh.