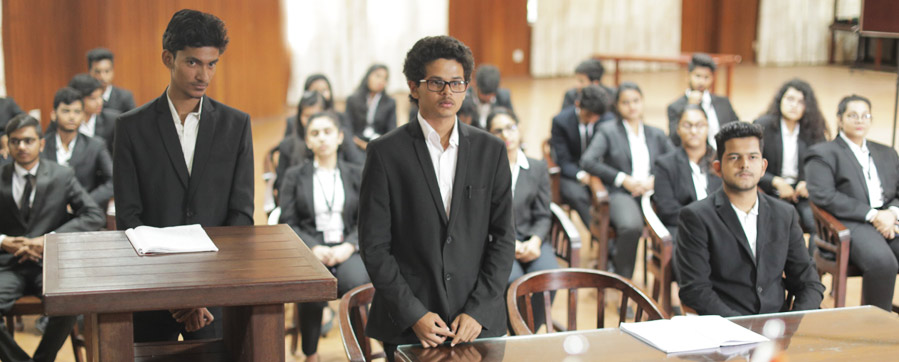 Alliance School of Law, Alliance University is approved by the Bar Council of India (BCI), New Delhi. The Alliance School of Law offers two five-year, integrated undergraduate courses in law, viz., Bachelor of Arts, Bachelor of Law Honors - B.A. LL. B. (Hons.) and Bachelor of Business Administration, Bachelor of Law Honors - B.B.A LL. B. (Hons.), Bachelor of Law (LL.B.) that have been carefully crafted and designed to prepare its graduates for rewarding careers in various roles and responsibilities in legal service organizations.
Alliance School of Law also offers a full-time, one-year Master of Law (LL. M.) degree with specializations in (i) Constitutional and Administrative Law, (ii) Corporate and Commercial Law, (iii) Intellectual Property Law, (iv) Criminal and Security Law, (v) Taxation Law, and (vi) Legal Pedagogy and Research - designed to develop strong research expertise in law and legal principles in among its graduates at the postgraduate level.
Alliance School of Law is approved by the Bar Council of India and is one of the premier academic units at Alliance University. With a centered emphasis on experiential learning and a research approach, the School of Law leverages a combination of world-class academicians and legal practitioners fostering generations of lawyers through cutting-edge legal education. Alliance is committed to imparting unmediated practical legal experience, inculcating problem-solving skills, critical thinking, and applied moot court compliance knowledge amongst students to make them stand out in the legal landscape. Through its various research centers and the legal aid clinic, students get a hands-on experience with drafting, pleading, client counseling, trial advocacy, and conveyancing.
Why Alliance School of Law
Integrated degree courses with honors-level specializations
A full-time, one year Master of Law course with specializations in Constitutional & Administrative Law, Corporate & Commercial Law and Intellectual Property Law.
Rigorous, relevant, contemporary and progressive curriculum
Delivered by accomplished full-time faculty and embellished by eminent jurists as well as international adjunct faculty
Innovative pedagogy comprising case-based, interactive teaching and experiential learning
Extensive interactions with legal luminaries
Moot Court hall for simulated court proceedings and visits to courts-in-session
Magnificent infrastructure—comparable to the best in the world
Well-equipped library with world-class digital legal resources
Internship opportunities and final placement facilitation in reputed companies and legal firms
Scholarships available for eligible students
Ranked 25 Among Top Law Schools in India by NIRF Rankings 2023

40+ accomplished and experienced faculty from India and abroad

Approved by the Bar Council of India

Member of the LSAT