Media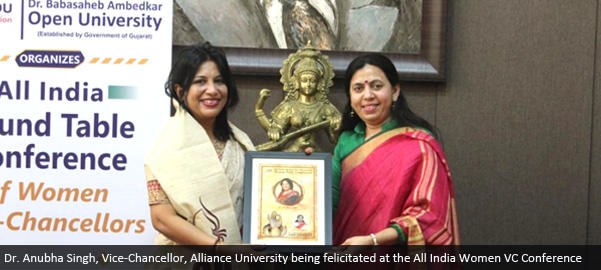 Women leadership in Indian academia is heavily skewed with over 1000 universities but less than 50 women vice chancellors. The first All India Women Vice-Chancellors Round Table recently held in Ahmedabad saw participation from women vice-chancellors of prestigious universities in India.
Hon'ble Education Minister of Gujarat, Shri Bhupendrasinh Chudasama; Hon'ble Minister of State for Women & Child Development, Education (Primary & Higher Education) & Pilgrimage, Smt. Vibhavariben Dave; Hon'ble Principal Secretary (Higher & Technical Education), Smt. Anju Sharma; Hon'ble Secretary General, AIU, Dr. Pankaj Mittal; enthusiastically participated in the event and shared their inputs on women empowerment and the role of women in shaping the country through education reforms.
Speaking at the Round Table, Dr. Anubha Singh, Vice-Chancellor, Alliance University highlighted the contribution of women in higher education and also on making education more equitable for all genders. She stressed on how education has served as a powerful tool for empowering women.
Dr. Singh mentioned that the Gross Enrolment Ratio (GER) of Indian women has shown a steady rise in the past two decades. However, she deliberated on the worrisome trend that suggests that while the student enrolment has increased almost 500 percent in the past 40 years across the globe, access to higher education by women has not always translated into enhanced career opportunities. While Indian women constitute 48% of the total enrolment in higher education, India shows a negative trend concerning women entering the workforce despite their increasing literacy rate and GER of women in higher education. Socio-cultural norms, economic factors, lack of family support, lack of adequate job opportunities etc. have resulted in this inequity.
Dr. Singh detailed points on the role of the higher education system in India that could reverse the trend. These points were about identifying achievable steps to enhance women's participation in science and technology; developing strategies and programs to close existing gender gaps through promotion of research, social awareness, upgradation of institutional policies; offering vocational guidance for women; to name a few.
Dr. Anubha Singh also shared some best practices in higher education such as building institution of a women leadership model; promoting research on gender issues; making universities safe and prevent gender-based violence and discrimination; identifying and promoting women role models.
The round table concluded on a positive note and all participants vouched to contribute immensely to higher the involvement and empowerment of women in education.
The All India Women Vice-Chancellors Round Table was organized at Dr. Babasaheb Ambedkar Open University in Ahmedabad, Gujarat on March 24, 2021 and was hosted by Prof. Ami U. Upadhyay, Vice Chancellor, BAOU.

Back