Media
The Alliance Center for Leadership and Public Policy, Alliance University, hosted a webinar titled 'Euphoria of Online Education', as part of the webinar series 'Enable and Enrich' which is a sequence of webinars on pertinent topics revolving around education, empowerment, leadership and rights.


This webinar witnessed a stellar panel comprising of eminent speakers and distinguished luminaries:
Padma Shri Dr. Shantha Sinha, Founder Secretary- M.V. Foundation
Dr. Jyotsna Jha, Director, Center for Budget and Policy Studies
Dr. Anubha Singh, Vice-Chancellor, Alliance University
Dr. Mukul Saxena, Director, Center for Leadership and Public Policy, Alliance University
The central theme of the discussion revolved around online education being viewed as an unprecedented opportunity to innovate, re-calibrate and reinvent education amidst addressing pertinent issues such as equality in education, risk of losing the social narrative of education as learning and purpose fulfillment of such mediums.
Padma Shri Dr. Shantha Sinha expressed her views on how education, not necessarily during COVID times, has become very classist and commercialized and suggested that collective efforts including strong government interventions and norms should emphasize on the aspect of education being a right to all, irrespective of their social stature.
Dr. Jyotsna Jha, brought to the discussion gender equality, citing examples of how today's education is impacting the girls in the country. She expressed her views lucidly and clearly said that online means would only complement the traditional brick and mortar set-up, and emphasized on how every child, irrespective of gender must be given a platform to learn and express their views and this would accomplish the true purpose of education - Creating strong and independent thinking minds!
Dr. Anubha Singh steered the discussion ahead by focusing on the impact on student learning curve; preparedness at the University level to embrace the new normal and how the future is very uncertain yet volatile and would compel most institutions to embrace technology as part of education, creating a blended mode that would incorporate choice based curriculum, an initiative promoted by regulatory bodies.
Dr. Mukul Saxena, basis his experience in rights-based work, provided meaningful insights into the current state of online education; how online education is becoming the new-normal and created the space for deeper discussions through pertinent questions being directed to the panelists.
The panel discussion came to a befitting closure with a unanimous agreement that online education as a nascent medium of instruction would supplement traditional modes, and education as a holistic term encompasses teaching-learning processes within the confines of social bonding and a constant impetus to students to develop an exploring mind, basis equality and freedom of expression. While technology will continue to disrupt traditional methods of education, it would by itself, not be able to engage, enrich and develop young minds into thought provoking leaders of tomorrow.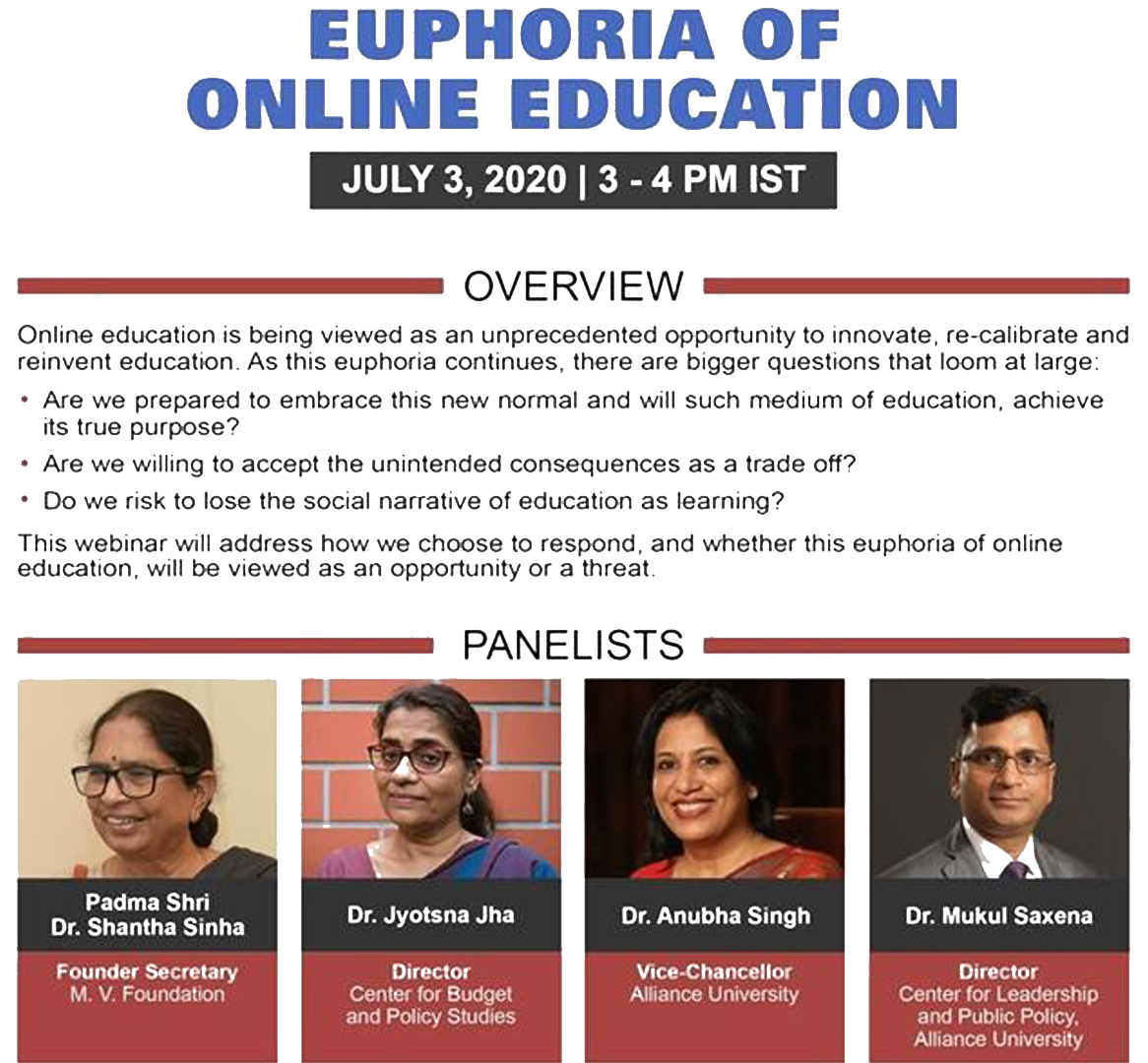 Back