Media
Republic day flag hoisting followed by Namma Habba Namma Khushi, an event organized by Samskruti, 2019
26 January, 2019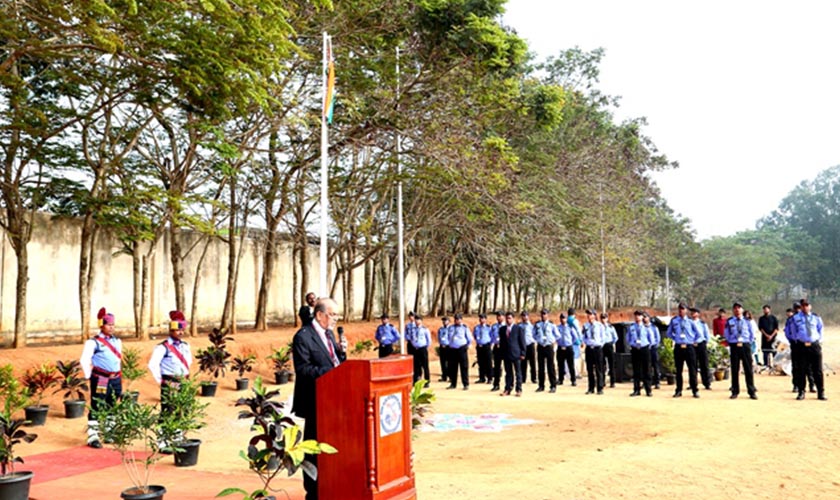 The Indian National flag was hoisted at Alliance University on the 26th of January, 2019 on the occasion of India's 70th Republic Day. The celebration was well attended by faculty and staff. The tricolor was hoisted by Dr. Mohan Gopinath, senior faculty, who also delivered the inaugural address.
Prof. Smitha from the School of Law took the gathering down memory lane in her speech 'Let's lead India'. A cultural program followed and Dr. Prince from the Department of Student Support Services regaled the audience with a self-composed solo rendition.
Students enthralled the audience with a series of heartwarming patriotic songs and dances and the event paved way for Namma Habba Namma Khushi, organized by Samskruti, a centre for human values, customs and traditions.
The theme and the purpose of Samskriti was to position Namma Habba Namma Khushi as a festival of Joy for those employees who, though not being part of the Faculty had an integral role to play in the functioning of the University.
The event began with the Chancellor lighting the lamp and declaring the Habba open. The staff took center stage with cultural programs which included a series of intricately choreographed dances.
The Habba unfolded into a day long sporting extravaganza which had the staff of the University lock horns with each other vying for top honors in sporting excellence.
The following events were organized by the Department of Student Support Services who were ably supported by Team HR and a group of volunteers:
50 meters dash - Men & Women
3 Legged race - Men
50 meters sack race - Men & Women
Lemon and spoon race - Women
Tug of War- Men & Women
Musical Chair- Women
An elaborate lunch was planned for staff. Senior office bearers including the Director- Administration, Director- Student Support Services and Faculty served food. The food was typical Habba (festival) style and had all the ingredients of a grand luncheon.
The event was overseen by the Director- Administration, the Registrar and the Office of the Chancellor who took the opportunity to emphasize the mission and vision of the University .The Director- Administration also acknowledged the service of staff by felicitating them. She lauded them for their unstinted support to the growth of the University.
The day culminated in a prize distribution ceremony followed by a musical for everyone.










Back