Media
Panel Discussion on Redesigning Business Organisation for Resilience on August 28, 2020
31 August, 2020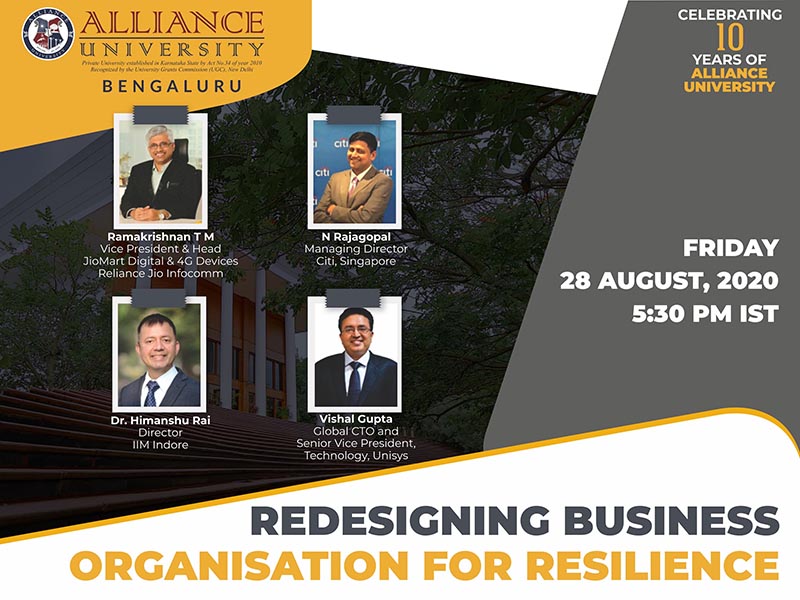 The office of Career Advancement & Networking at Alliance University organised an online panel discussion on Redesigning Business Organisation for Resilience on August 28, 2020. The session brought together industry leaders from various verticals to discuss and engage on a topic that has become the most important facet of sustainability at the moment. However, businesses are not just about sustainability but also about leveraging strengths and opportunities within the enterprise and outside to build resilience. It is this moment when businesses have shaken up to redesign their organizational value chain to offer stakeholders confidence for growth.
In the panel discussion, industry leaders who manage P&L worth millions or stakeholders that impact thousands of lives, across verticals and geographies discussed their plan to strategically maneuver their businesses to profitability and sustenance by building resilience.
The panelists who joined the discussion represented different industries and geographies bringing in a global perspective to the session:
Mr. Ramakrishnan T M, Vice President & Head - JioMart Digital & 4G Devices, Reliance Jio Infocomm
Mr. N Rajagopal, Managing Director, Citi, Singapore
Dr. Himanshu Rai, Director, IIM Indore
Mr. Vishal Gupta, Global CTO and Senior Vice President, Technology, Unisys, USA
The panel discussion was structured in manner to address some of the most contemporary issues faced and overcome by the enterprises that our panelists represented:
Industry overview & challenges
Shifting focus from managing the new normal to building resilience
The way forward
Talking about the industry overview and challenges, Mr. Ramakrishnan spoke about how Reliance Jio capitalized on the Indian demography and population to drive data usage by individuals. Mr. Rajagopal stressed on how the banking operations of Citi were managed during the pandemic situation. Dr. Himanshu spoke about the way the world understood the challenges caused by the Covid-19 situation and explained how companies should define resilience by building capabilities. Mr. Vishal explained how Unisys was partnering with countries to help them overcome healthcare challenges using technology.
Further, the panelists spoke about how their organizations were moving from managing challenges and building resilience. Dr. Himanshu stressed on the fact that building resilience was possible only when all stakeholders of an organization supported each other as a community and that they partner with each other strongly to be sustainable and profitable to each other. Mr. Vishal gave examples how some of the travel and pharma companies were benefitting from various technology platforms and the growing importance of data science, virtual reality, artificial intelligence, etc. Mr. Rajagopal spoke about the way Citi was managing its customers across different countries, the solutions varied based on expectations from customers who are business or individuals. Mr. Ramakrishnan mentioned the opportunity that lied in the future about letting common people have access to internet and technology.
The panel discussion surely left the audience with one solid message around building strong human value chains to build business organisations for resilience. The common message that came across from all the panelists was to understand and value consumer requirements which would automatically drive acceptance and in turn profitability for their organisation's products and services.
The session was followed by a Q&A round with the participants.

Back