Media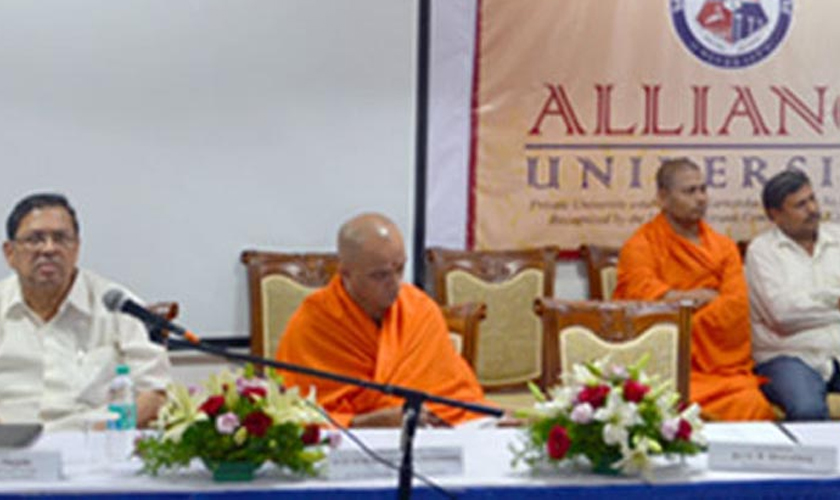 Alliance University observed the National Law Day in the presence of His Excellency, The Governor of Karnataka and The Visitor of Alliance University Shri. H. R. Bharadwaj; His Holiness Jagadguru Sri Sri Sri Nirmalanandanatha Mahaswamiji, President, Sri Adichunchanagiri Mahasamsthana Matha; Honorable Justice N. Santosh Hegde, Former Lokayukta, Karnataka State; and Honorable Justice Subhash B. Adi, Upa Lokayukta, Karnataka State as well as a host of other dignitaries from the legal and judicial fraternity.
In his inspirational and motivating address, His Excellency Shri. H. R. Bharadwaj, lauded the triumph of Indian democracy that is attributed to the supreme rule of law enshrined in the Constitution of India, which ensures the preeminent role of the judiciary in the interpretation of constitutional principles. He also deliberated upon the role of the Supreme Court in upholding judicial review and protecting the constitutional rights of the Indian citizen. The Hon'ble Governor highlighted the great and sublime purpose of the Indian Constitution which is intended to serve in a republic governed by the rule of law. Calling upon the role of educationists and universities to strongly champion the cause of legal education in this country the Hon'ble Governor congratulated the Alliance School of Law in its mission of becoming a world-class institution of higher learning in legal education and in promoting legal research and education through its centers of excellence in law. He exhorted students of law to aspire to become world-class lawyers who are committed to upholding the constitutional doctrines envisioned by the founding fathers of the Indian Republic.
His Holiness Jagadguru Sri Sri Sri Nirmalanandanatha Mahaswamiji, President, Sri Adichunchanagiri Mahasamsthana Matha in his address highlighted the importance of value-based education and the role of great visionaries who left a profound and powerful legacy in developing the Constitution of India. His Holiness called upon the students to prepare themselves as great lawyers who need to work tirelessly towards the betterment of society.
Justice Santosh Hegde while focusing on the greatness of constitutional principles made a strong case for the strengthening of judicial independence and the supremacy of the rule of law in ensuring that the elected representatives as well as the other holders of public office—the civil services and judiciary—are allowed to perform their roles as the custodians of the Constitution of India.
Justice Subhash B. Adi in his address focused on the role of parliament and parliamentarians in the creation of laws and the need for law makers and social leaders to set high ethical standards and serve as role models for society. He stated that justice—social, economic and political still evades Indian citizens. Justice Adi also highlighted the importance of Law Day as a victory of constitutional values.

Back