Media
Embarking on a Voyage of Excellence: Alliance University MBA 2023 Inaugural and Orientation Program
19 July, 2023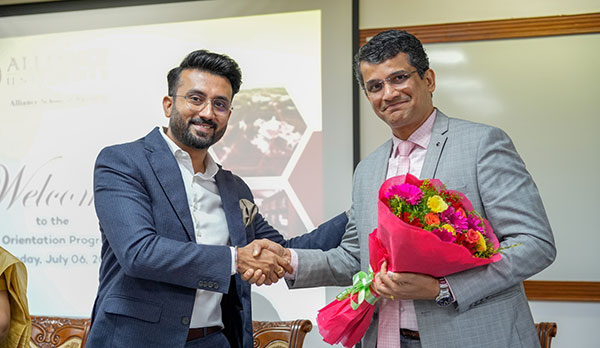 As per the guidelines provided by (UGC) Deeksharambh- A Guide to Student Induction Programme, followed by the G20 Campaign, Alliance University conducted an Inaugural and Orientation Program to celebrate the arrival of the highly anticipated MBA July Batch 2023 that took place from July 6th to 19th. The inaugural and orientation program marked the commencement of their transformative journey, filling the air with excitement and anticipation for the groundbreaking achievements they will accomplish in the years to come.
The event commenced with a warm and inspiring Welcome Address by Dr. Ray Titus, Pro Vice-Chancellor (Incubation & Innovation) and Dean of the esteemed Alliance School of Business. His words set the tone for a transformative learning experience that awaits the new batch of MBA students. Mr. Abhay G. Chebbi, Pro-Chancellor of Alliance University, delivered an Inaugural Address that encapsulated the spirit of ambition, excellence, and leadership that defines the institution. His insightful words motivated the students to embark on their journey with determination and a drive for success. Dr. Anubha Singh, Vice-Chancellor of Alliance University, shared her valuable insights, offering guidance and encouragement to the incoming students. Her address emphasized the importance of holistic development and the role of Alliance University in shaping well-rounded professionals.
Gracing the occasion as Chief Guest, Mr. Sanyam Goyal, Managing Director of Risk Engineering at Goldman Sachs, shared his wisdom and industry expertise with aspiring business leaders. His presence added immense value to the event, inspiring the students to strive for excellence and embrace innovation in their future endeavours.
The Program Structure Familiarization session, led by Dr. Thangjam Ravichandra Singh, Associate Professor of Alliance School of Business, provided an overview of the comprehensive curriculum and educational framework that the MBA students will engage with, during their tenure. This session served to align expectations and set the stage for a rewarding academic experience. Our esteemed alumnus, Mr. Shashidhar NC, CEO – AMS India Pvt Ltd, delivered a captivating speech to the students, sharing his remarkable journey and inspiring achievements thus far.
Additionally, the program highlighted the significance of Corporate Mentorship, Alumni Support, and Corporate Engagement, which Ms. Surekha Shetty, Sr. Director, and Mr. Vadivelan Gopal addressed, respectively. Their insights shed light on the invaluable resources and connections that await the students as they navigate their professional journeys.
As the inaugural and orientation program concluded, the MBA July 2023 batch embarked on a transformative journey, armed with knowledge, guidance, and a strong sense of purpose. Alliance University looks forward to witnessing their remarkable achievements and the impact it will undoubtedly make on the business landscape.

Back