Media
Co-Founder and Chief Investment Officer of True Beacon and Zerodha, Shri Nikhil Kamath, a Young and Dynamic Entrepreneur Addresses Graduating Students on Convocation 2021
29 March, 2021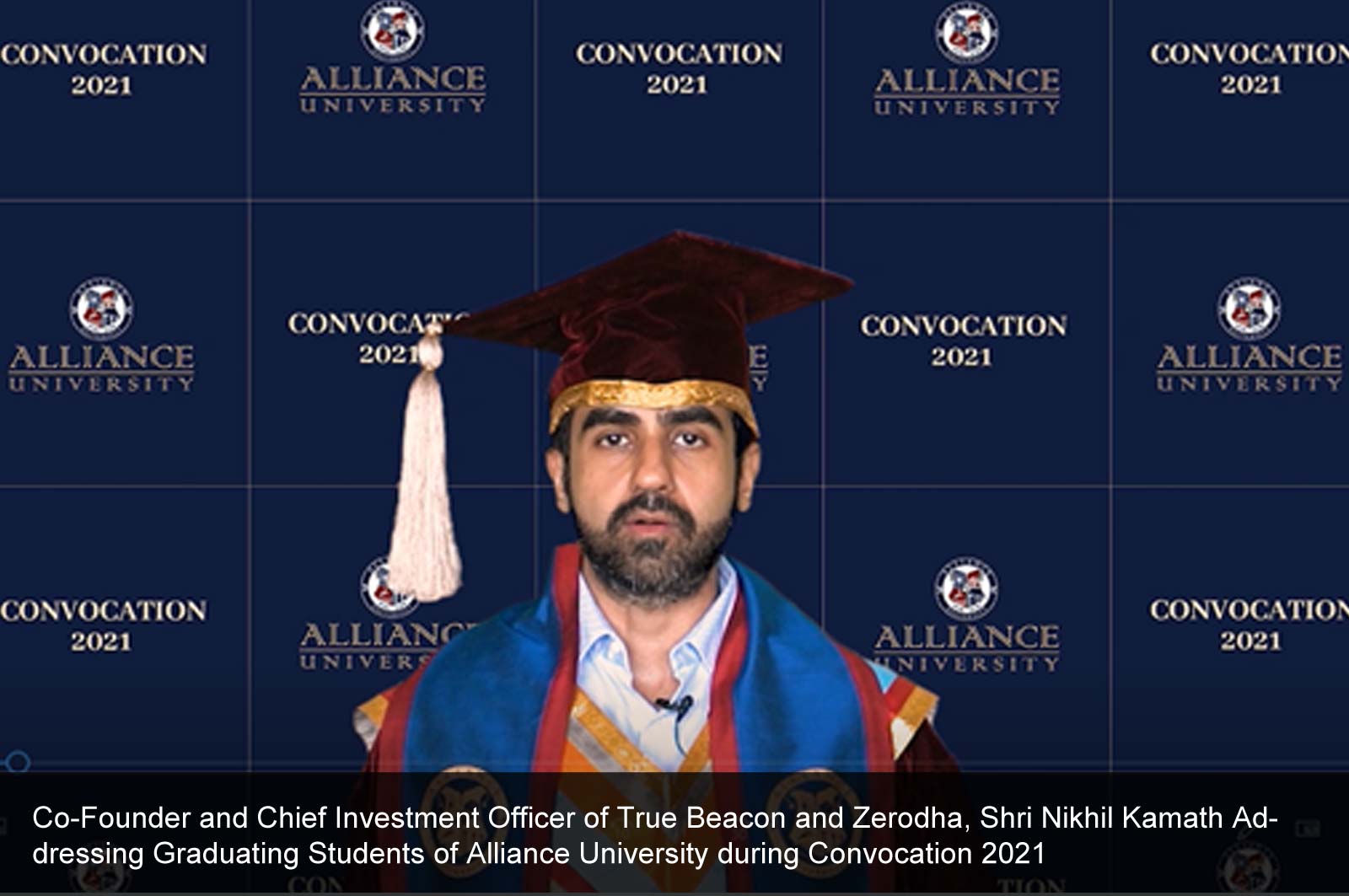 Shri Nikhil Kamath, Co-Founder and Chief Investment Officer of True Beacon and Zerodha delivered his address to graduates of Alliance and mentioned how young students should focus and build on their dreams around what excites and inspires them. Shri Nikhil Kamath mentioned that during uncertain times such as everyone saw during the onset of the Covid-19 pandemic ancillary education was an important aspect and was growingly becoming non-optional. He stressed on the fact that a challenging environment leads to more learning and doing. Shri Nikhil Kamath suggested graduating students of Alliance University to passionately and continuously learn beyond what they would have learnt during the their academic journey. He also suggested that there was huge potential and opportunity in the financial markets to the extent that only a percent or two of India's population was exposed to financial markets and technologies.
Shri Nikhil Kamath encouraged graduating students to look beyond academic scores and college placements as they are temporary achievements during college and are not necessarily the drivers of growth and success for individuals in the long run. The Co-Founder and Chief Investment Officer of True Beacon and Zerodha, Shri Nikhil Kamath in his closing remark stressed on the fact that youth should pay attention to their strengths and succeed in the areas that they can confidently contribute and excel.
Shri Nikhil Kamath is the Chief Investment Officer at True Beacon and Zerodha, companies that he co-founded at a very young age. He is passionate about analytics and financial markets and received the coveted Economic Times Start Up of the year in 2020 for Zerodha.

Back