Media
Chief Guest and Pro-Visitor Honourable Deputy Chief Minister of Karnataka, Dr. C.N. Ashwathnarayan Addresses the Convocation Gathering on Transformation in India
29 March, 2021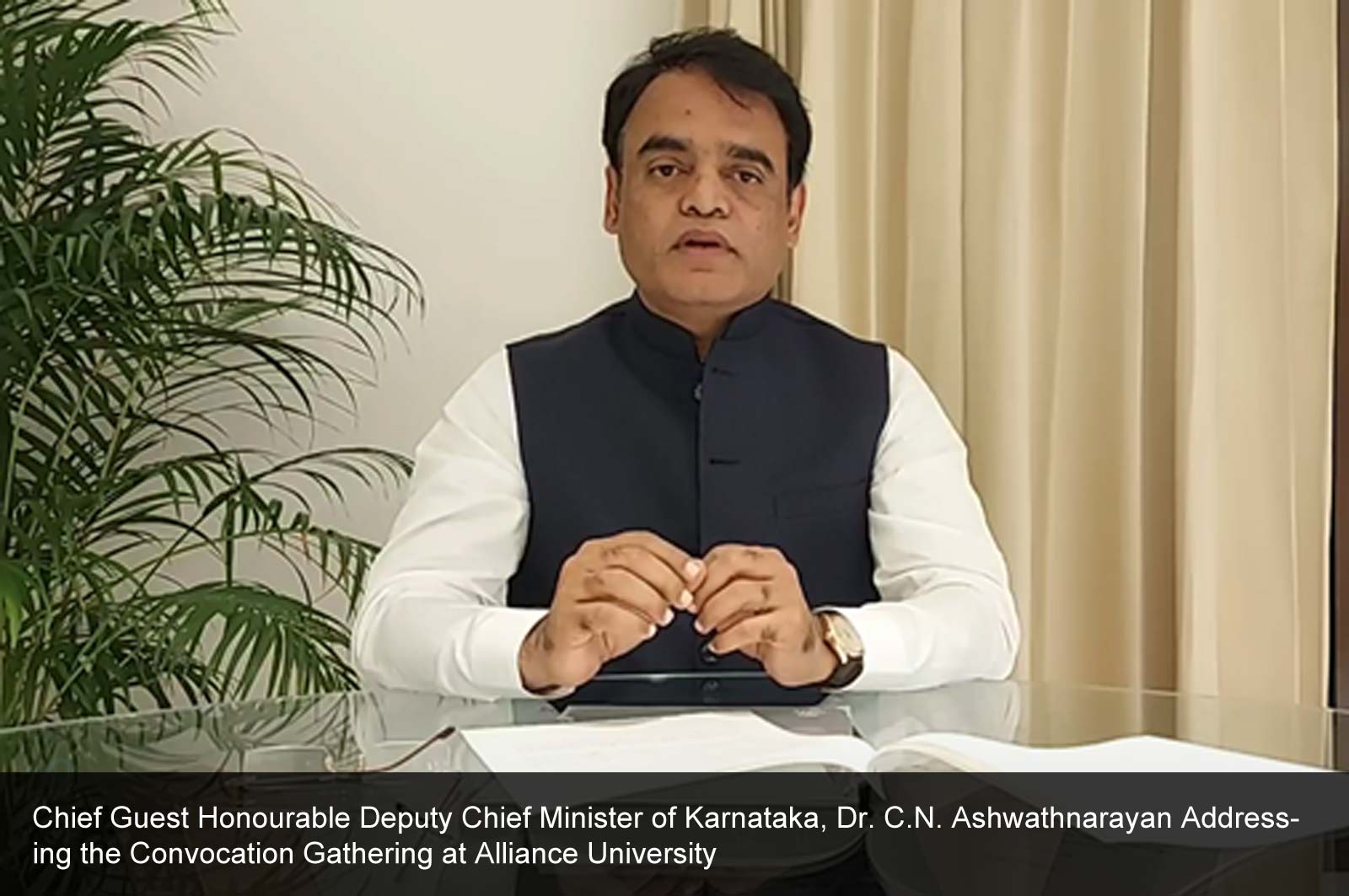 Chief Guest at the Alliance University convocation, Dr. C.N. Ashwathnarayan, Deputy Chief Minister & Minister for Higher Education; IT & BT; and Science & Technology, Government of Karnataka addressed the graduating students on the way India is growing to be better positioned economically for better opportunities for the youth. The Deputy Chief Minister mentioned how India has transformed for the world during Covid-19 and he attributed this transformation to the cooperation of all citizens. The Deputy Chief Minister stated about the vision of the Honourable Prime Minister Shri Narendra Modi in leading India's growth trajectory to become a $ 5 trillion economy in the next few years. Dr. Ashwathnarayan mentioned how India has become a land of opportunities and is out pacing other growing economies. The Deputy Chief Minister's message to the graduating students was clear that India is and will remain the best place for them to start and build their careers. The key words of Dr. Ashwathnarayan's address were creating a system for accountability; transformation; and simplification, in a manner that encourages the young to make way for the better and Atmanirbhar Bharat. The Deputy Chief Minister stated the direction in which the governance of the country is to ensure that there is 'ease of doing business' for young and enterprising individuals. Dr. Ashwathnarayan spoke on reduction of dependency on imports to create an Atmanirbhar Bharat as envisioned by the Prime Minister. He spoke about the thrust areas such as manufacturing, agriculture, technology, tourism, hospitality, services, etc. As the Pro-Visitor to Alliance University, Dr. Ashwathnarayan congratulated Alliance University for being a top ranked university and for producing bright and dynamic graduates. He spoke about the importance of scaling up and pursuing excellence to enhance quality of learning.
As a Minister, Dr. Ashwathnarayan has been determined to make Karnataka the premier state for technology driven entrepreneurship and innovation. He showed his commitment to foster tech entrepreneurship in the state by successfully organising a grand event in the form of the Bangalore Tech Summit. Under his leadership the State Government has also set up the Karnataka Innovation Authority (KIA) to empower startups and support their latest methods in the field of innovation. This is in addition to the launch of a Vision Group for Startups to ensure constructive engagement with the start-up ecosystem.
Dr Ashwathnarayan has always been a 'man on a mission', determined to make a difference in improving the lives of people and help the society at large. He is a multifaceted personality; he is an educationist, a healthcare entrepreneur, a tech enthusiast and a philanthropist.

Back