Media
Making Mental Health a Priority: Alliance University hosts Panel Discussion & Art Therapy to Commemorate World Mental Health Day
10 October, 2022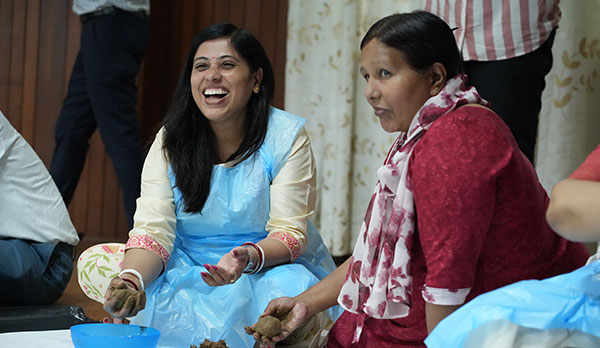 The School of Liberal Arts (ASLA) of Alliance University hosted an Online Panel Discussion on the theme "Make Mental Health & Well-Being for All a Global Priority". Speakers from different fields of expertise gave their insightful thoughts on "wellness".
Dr. Arvind Shanker Shukla, Assistant Professor, Political Science Department, Sharda University, Noida spoke on the topic "National mental health policy of India: Critical Reflections". Further, Dr. Sheesha Pathak, Assistant Professor, Amity University, Noida spoke on the topic of "Mental Health of Global Citizens". Ms. Nitha Thomas, M.Phil. in Clinical Psychology, NIMHANS Clinical Psychologist, Neev M H, Ph.D. Scholar, Christ University, Mysuru spoke on the topic of "Young Adults in Universities and Mental health". This was followed by Ms. Kirthy Chandrasekhar, Social Psychologist and Ph.D. Scholar, TISS Mumbai spoke on "Social Marginalization and Mental Health with special reference to Disability Studies" and Dr. Khalid Ansari, Research Associate, Centre for the Study of Social Exclusion and Inclusive Policy, Jamia Millia Islamia, New Delhi spoke on "Mental Health, Exclusion and Public Policy".
Further, The Department of Student Support Services in collaboration with the Rotaract Club of Alliance University and the Human Resource Department conducted Art & Progressive Muscle Relaxation Therapy to commemorate "Mental Health Day". Art Therapy was conducted by Prof. Sangita Das, Assistant Professor, Alliance School of Liberal Arts and Muscle Relaxation Therapy was conducted by Ms. Sakshi Jauhari, Psychologist in the Department of Student Support Services, Alliance University. The session consisted of a clay molding session, where the participants were given the chance to create whatever they wanted with clay.
Similar sessions were conducted in the F-1 & F-2 campuses of Alliance University, where faculty, staff and students participated in the Training for Stress Management through Art Therapy and Progressive Muscle Relaxation Therapy on World Mental Health.

Back