Media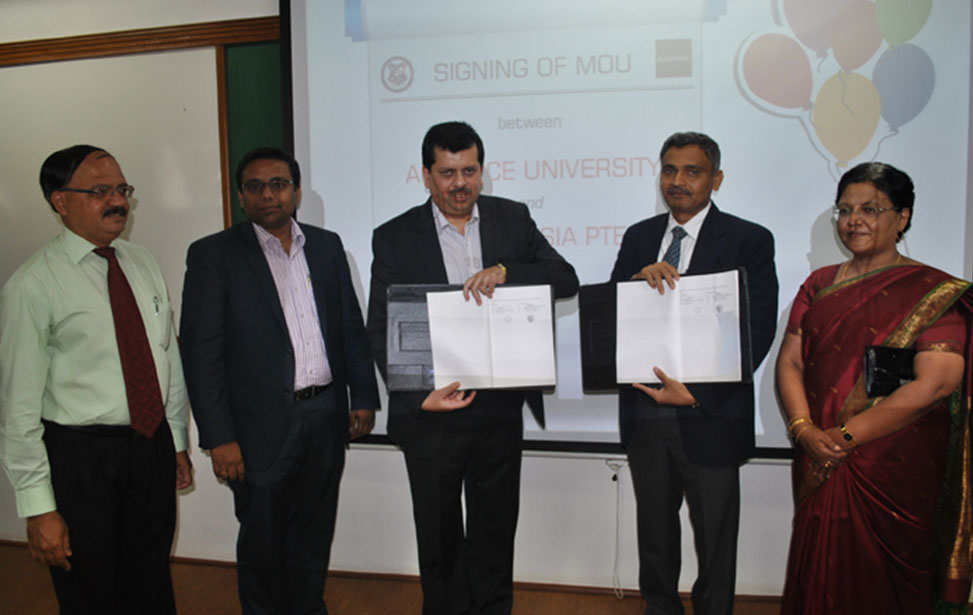 Autodesk, India, the subsidiary of Autodesk, USA has been supporting the Indian industries with the state-of-the-art 2D and 3D design and drafting technologies. Their products let engineers visualize, simulate, and analyze the real-world designs. Worldwide, Autodesk products have been helping the engineering industries to perform better with its tools. The engineers who get trained in the Autodesk products can evaluate their ideas early in the design process. This shall provide the users of Autodesk products, the flexibility to optimize and improve designs before actually executing them. Autodesk users not only see, but experience, their designs before they are real, empowering them to save time and money, improve quality, and foster innovation.
Autodesk, India signed a Memorandum of Understanding with Alliance University for training the Engineering students in the Design, Drafting, and Digital Prototyping using Autodesk products. This is the first ever collaboration Autodesk has entered with a University in Karnataka. Through this MOU, Autodesk shall participate in the curriculum design, training, technical support and joint academic programs at Alliance University. The faculty and the students of Alliance College of Engineering and Design shall get an opportunity to practice the state-of-the-art design, drafting and prototyping products.
The signing and exchange of MOU was witnessed by Mr.Deepankar Bhattacharyya, Senior Manager-India, Middle East & Africa Education Programs and Mr. Anand Pillai, Program Manager—India and SAARC from Autodesk and Mr.Sivakumara Mathada, Registrar and Dr.Anne Mary Fernandez, Dean from Alliance University.

Back