Media
Alliance University presented the Degree of Doctor of Philosophy ( honoris causa ) to Padma Bhushan Smt. Rajashree Birla on February 7, 2015
07 February, 2015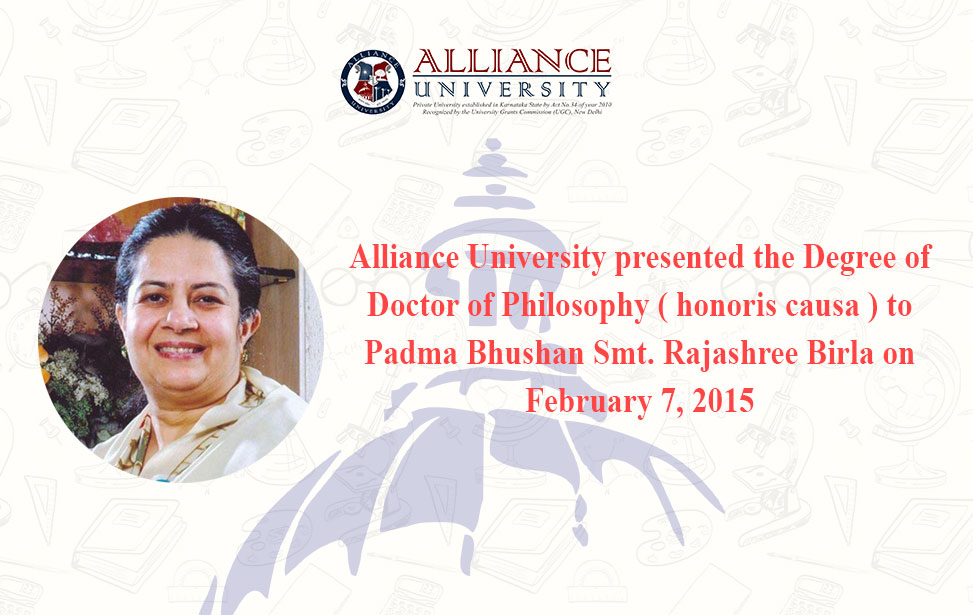 Padma Bhushan Smt. Rajashree Birla recieving the Honorary Doctorate from , Alliance University in the presence of Shri DH Shankaramurthy, Chairman, Karnataka Legislative Council and Dr. Anubha Singh, Pro Vice-Chancellor (Academics), Alliance University
Alliance University, Bangalore presented Smt. Rajashree Birla, the Degree of Doctor of Philosophy ( honoris causa ) at a function held on 7 February, 2015. The Chief Guest for the event was Shri. D.H Shankaramurthy, Hon'ble Chairman, Karnataka Legislative Council. The degree was awarded in the presence of the Vice Chancellor, Pro Vice-Chancellor, senior corporate leaders from the Aditya Birla Group, senior administrators, faculty and students of the University, and members from other organizations were also present in the audience.
The conferment of honorary doctorate degree is the most distinguished honour that Alliance University bestows on an individual who has achieved exceptional distinction and has a record of distinguished achievement in her/his own field of endeavour such as social service, community, leadership, economic enterprise, public affairs, and philanthropy; or who has rendered distinguished service and made outstanding contributions in the pursuit of knowledge mainly in an academic or research environment in the field of management, science, technology, humanities and social science.
The Chief Guest at the event Shri. D.H Shankaramurthy eloquently mentioned how the Indian education system has evolved; and the contributions of the Birla family in the building of the nation from the pre-independence era.
Padma Bhushan Smt. Rajashree Birla in her address to the august gathering thanked the Alliance University, members of the Board of Governors and all the other senior administrators of Alliance University. Smt. Birla accepted the conferred Honorary Doctorate with grace, humility, and honour and expressed her pride in being associated with Alliance University because of the respect and credibility that the University enjoys in the world of academics. Smt. Rajashree Birla congratulated the Hon'ble Chancellor for having branched out the University into all the other significant academic streams in addition to the School of Business.
Smt. Rajashree Birla urged the students to inculcate in them the values of Humanitarianism – which rests on the three pillars of 'Compassion', 'Consideration' and 'Composure'. Smt. Birla highlighted the key initiatives of the Aditya Birla Center for Community Initiatives and Rural Development and urged the students of Alliance University to do their significant bit to have a demonstrable impact, on the lives of the underserved and the society at large.
The Government of India had bestowed on Smt. Birla the coveted Padma Bhushan Award in the area of Social Work in 2011. She also received the prestigious Global Golden Peacock Award for Corporate Social Responsibility in 2010. Other notable accolades that she has received include the Rajiv Gandhi Award for Eminence in Social Field in 2009, and the Rotary International Polio Eradication Champion Award in the same year. Smt. Rajashree Birla currently spearheads the Aditya Birla Centre for Community Initiatives and Rural Development, the Aditya Birla Group's apex body responsible for developmental projects.

Back