Media
Alliance University Hosts Panel Discussion on "Creating Value for Corporate and Academia in the Digital Age"
18 July, 2014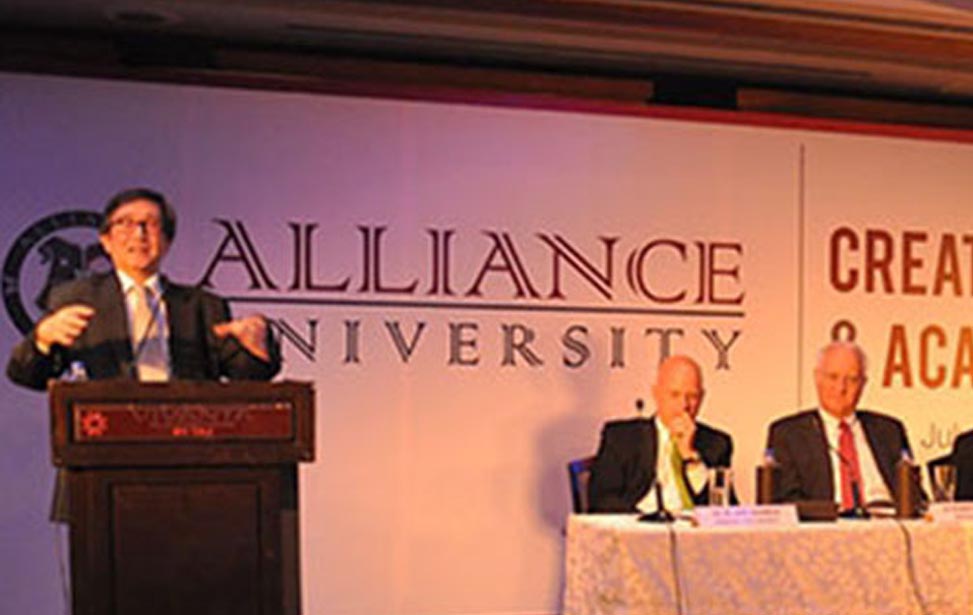 Alliance University, Bangalore organized and hosted a panel discussion on the theme, "Creating Value for Corporate and Academia in the Digital Age" on July 18, 2014 at Vivanta by Taj, MG Road, Bangalore. The exclusive event was chaired by the members of the Advisory Board, Alliance University with Dr. Jagdish N Sheth, Charles H. Kellstadt Professor of Marketing, Goizueta Business School, Emory University; Dr. Robert A. Easter, President, University of lllinois, USA; Dr. Tan Chin Tiong, Senior Advisor to President and Professor of Marketing, Singapore Management University, Singapore; Dr. Howard Hunter, Professor of Law, Singapore Management University, Singapore, Professor of Law and Dean Emeritus, School of Law, Emory University, USA; Mr. Pratik Kumar, CEO, Wipro Infrastructure Engineering; Dr. W. Ken Harmon, Provost and Vice President for Academic Affairs, Kennesaw State University, USA as the panellists, and Mr. Sanjay Kumar, Head of Learning & Development, ITC Infotech India Ltd. as the moderator.
This international event brought together the best minds from both the corporate sector and business academia. The panel discussion focused on the next-and-best practices for the digital marketplace, the use of social media in marketing and building brands online, customer engagement management, and accessing social networking platforms by employers to search for human resource talent, among others. The event was attended by senior industry leaders from different organizations.
The Panel Discussion tried to bridge current thought and perspective in management and its practice to an increasingly global, digital and highly connected world. Participants and panellists gained valuable insights on creating value in the digital marketplace and how to deliver this value to the larger community of users in better and superior ways.

Back