Media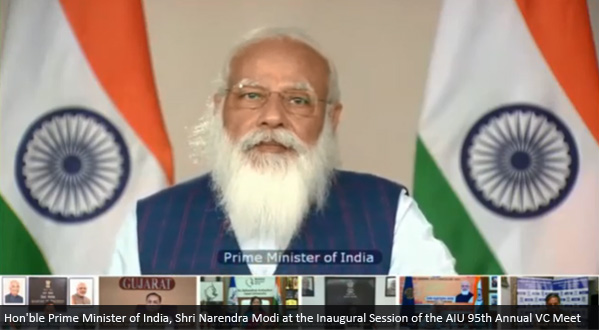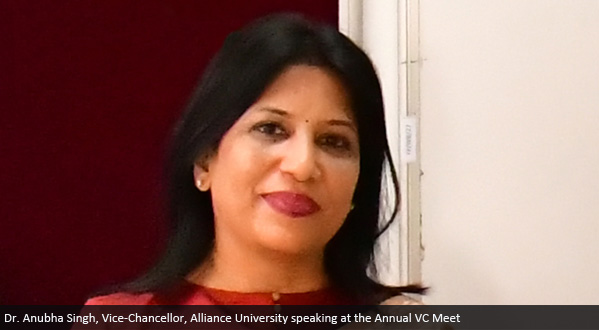 The 95th National Seminar of Vice Chancellors was held on April 14, 2021 on "Implementing NEP to Transform Higher Education in India". The Hon'ble Prime Minister, Shri Narendra Modi highlighted the vision of the National Education Policy which is benchmarked alongside global parameters. The Prime Minister stressed that the NEP should focus on empowering youth through skill-enhancement so that it promotes an Atmanirbhar Bharat. PM Modi mentioned that India is in cusp of transformation with growth of technologies such as Artificial Intelligence, Big Data, Internet of Things, and many more, and that higher education institutes should play the most important role of amalgamating technology in education.
The Prime Minister mentioned that all universities and its vice-chancellors should focus on creating interdisciplinary institutions with easy entry and exit modes in programs. PM Modi urged the vice-chancellors that they work towards implementing NEP to ensure that the country becomes a pool of young, talented and skilled professionals.
The event was virtually hosted by Dr. Babasaheb Ambedkar Open University, Ahmedabad, Gujarat. The event was graced by Honorable Prime Minister of India, Shri Narendra Modi as the chief guest in the august presence of Hon'ble Governor of Gujarat, Shri Acharya Devvrat; Hon'ble Chief Minister of Gujarat, Shri Vijaybhai Rupani; Hon'ble Union Minister of Education, Shri Ramesh Pokhriyal, Hon'ble Education Minister of Gujarat, Shri Bhupendrasinh Chudasama; Hon'ble Chairman, University Grants Commission, Prof. D.P. Singh; Hon'ble President AIU, Prof. Tej Partap; Hon'ble Secretary General, AIU, Dr. Pankaj Mittal; Vice-Chancellors and Directors of Universities and Institutions.
The event coincided with the 130th Birth Anniversary of Dr. Bhim Rao Ambedkar.
Dr. Anubha Singh, Vice-Chancellor, Alliance University participated in this VC Meet and spoke on governance in implementation of NEP 2020 highlighting how NEP-2020 is a milestone in itself for the education sector and is aligned to the 2030 agenda for sustainable development; built on the foundation pillars of access, equity, quality, affordability and accountability; and that aims to transform India into a vibrant knowledge society and global knowledge superpower.
Talking about reforms that the policy would bring to overcome these challenges, Dr. Anubha Singh stated that governance in higher education should result in:
Large and multidisciplinary higher education institutions with multilingual offerings
Academic and administrative autonomy
Revamping of curriculum and assessment mechanism
Career progression based on teaching, research, and service to promote institutional leadership
Recognition and funding for outstanding research
Dr. Singh also spoke about regulatory system reforms that the government plans to bring in the education system by setting up of four independent verticals under one umbrella institution, the Higher Education Commission of India (HECI).
Dr. Anubha Singh ended her session on the note that the broader vision of NEP for higher education institutions is to promote being more inclusive, innovative, internationally connected and atmanirbhar where autonomy with accountability would be the new mantra.

Back