Patron-in-Chief
Mr. Abhay G. Chebbi
Pro-Chancellor
Alliance University
Patron
Prof. (Dr.) Anubha Singh
Vice-Chancellor
Alliance University
Editor-in-Chief
Dr. Anirudh Shridhar
Head of the Department
Alliance University
Dr. Anupama Tiwari


Assistant Professor (Hindi)
Alliance University
Dr. Vivekanand Sajjan


Assistant Professor (Kannada)
Alliance University
Dr. Liju Jacob Kuriakose


Assistant Professor (English)
Alliance University
Dr. M. Venkateshwar


English and Foreign Languages University, Hyderabad
Dr. Prabh Shankar Premee


Professor (Rtd.), Bangalore University
Dr. C. Jay Shankar Baabu


Pondicherry University
Dr. Parvathy Das


Assistant Professor
IIITDM, Kancheepuram
Dr. T. D. Rajanna


Assistant Professor
Central University of Karnataka
Dr. M. S. Durga Praveena


Assistant Professor
Dravidian University, Andhr Pradesh
Prof. Bibin Thomas


Assistant Professor (English)
Christ College, Irinjalakuda
Dr. Arindam Das


Asso. Professor (English)
Alliance University
Dr. Manisha Dixit


Professor (Media and Journalism)
Alliance University
Dr. Raoof Mir


Assistant Professor (Media and Journalism)
Alliance University
Prof. Ravi Chakraborty


Assistant Professor (English)
Alliance University
Dr. I. N. Prakash


Librarian
Alliance University
Anukarsh is a peer-reviewed literary magazine published by the Department of Language and Literature, Alliance University. The magazine is intended to function as a space that synergizes the unique artistic and creative vigour ingrained in Indian literature. As one among the very few multilingual literary magazines in the country, Anukarsh works to explore the multitudinous ways in which our diverse languages and cultures have worked to form a rich and composite literary oeuvre. It shall promote a comparative approach towards the study of Indian languages, cultures, and literatures. The magazine will work to celebrate the plurality and diversity of Indian cultures, traditions, and literatures, while promoting a syncretic understanding of the same.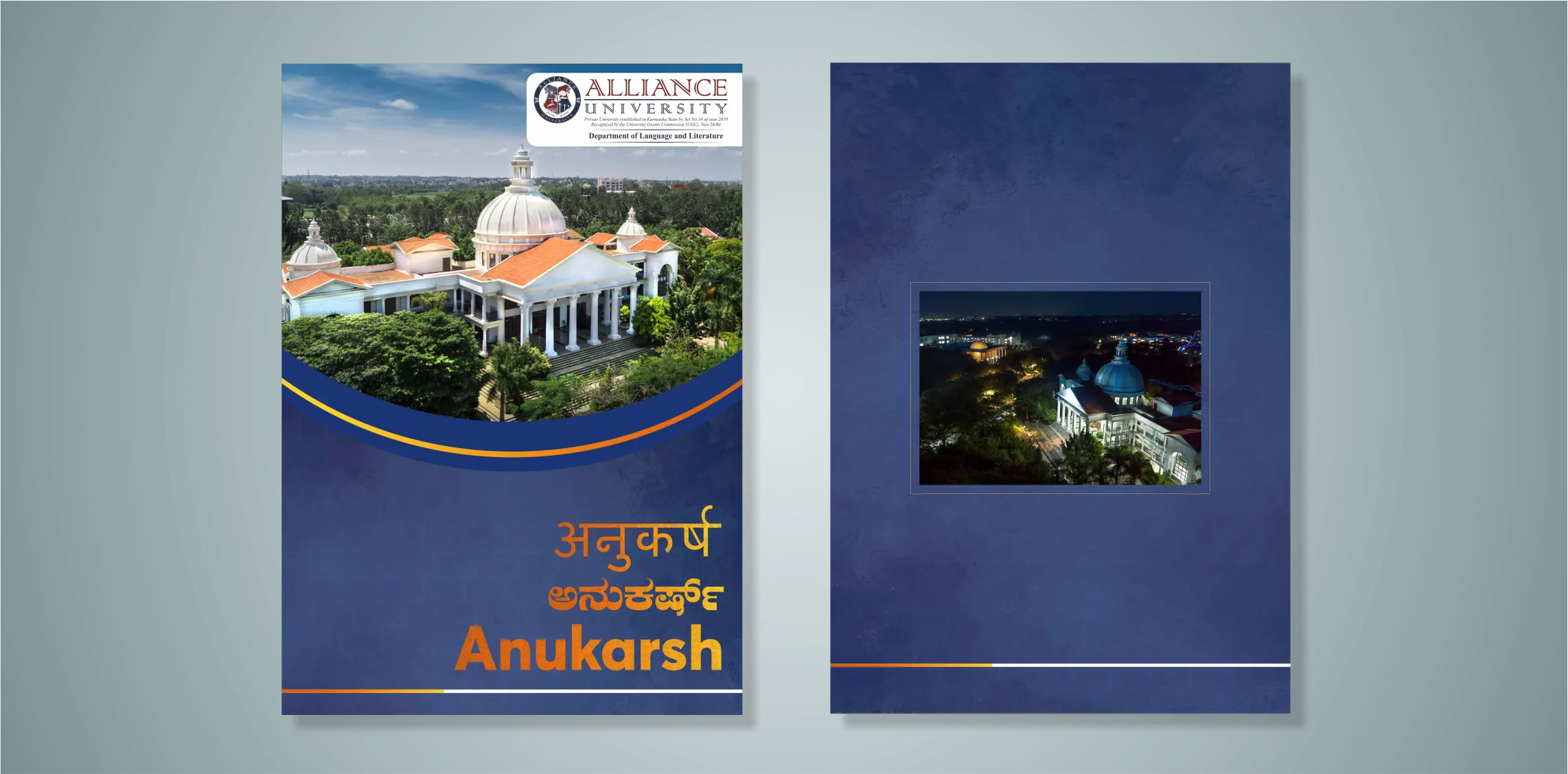 Call for Papers for Vol. II, Issue 1
As a quarterly, multilingual and interdisciplinary enterprise, we believe that Anukarsh can truly function as an interface that brings together scholars, writers, and literati from diverse linguistic and cultural backgrounds. The first issue of Anukarsh, with a special focus on Hindi language, literature, and culture, was successfully released in September this year on the occasion of Hindi Diwas.

The Vol II. i is planned to be released in December, primarily in three languages - Hindi, English and Kannada - though we welcome and encourage submissions in other Indian languages as well.

This issue will focus on the broad theme of "Artistic, Literary, Cultural and Historical Heritage of South India". We hope that this issue will help us better understand the linguistic, cultural, and socio-political landscape of South India.

We cordially invite all our esteemed writers, scholars, and researchers to send in your valuable contributions for this issue. Your article should reach us on or before 20/12/2021 on the following email address: anukarsh@alliance.edu.in.
1
A long article should ideally be of 5000 to 9000 words, while a shorter article, with a word limit between 2000 and 5000, shall also be considered. For a book review in Hindi language, at least two books must be reviewed within the same article. For a book review in English language, while you are encouraged to review a single book, you can only choose a book that was first published within the past decade. For book review, the word limit shall be 4000 words.
2
All articles must be accompanied by a 150-to-200-word abstract.
3
The author's details including name, designation, affiliation, residential address, phone number, and email address should be included at the end of the article.
4
The article must be original and not submitted for publication elsewhere. Along with the article, it is mandatory to send the declaration that the work is one's own and that it is not plagiarized.
5
Articles for publication in Hindi, Kannada, and other Indian languages should be typed in Unicode font. Hindi articles must be given in Nightingale or Mangal format, size 14.
6
The preferred font for articles in English shall be Times New Roman and the font size shall be 12. The text should be double-spaced as well.
7
At the time of submission, kindly ensure that the article is free of typographical, grammatical, or syntactical errors. The author must ensure that the text has been properly proofread.
8
Research papers will be published only after a double-blind review process.
9
The documentation style for research articles will be MLA 9th edition. Parenthetical and end-text citations must be done in accordance with the guidelines of MLA 9th edition.
10
The editorial board reserves the right to make changes to the guidelines mentioned.
Department of Language and Literature
Chikkahagade Cross, Chandapura - Anekal Main Road, Anekal, Bengaluru – 562 106, Karnataka, India.