Alliance School of Law
With a centered emphasis on experiential learning and research approach, the Alliance School of Law leverages a combination of world-class academics and legal practitioners fostering generations of lawyers through cutting-edge legal education.
ELIGIBILITY
LL.B.
Bachelor's degree recognized by the UGC in any discipline with a minimum of 45% marks in aggregate (43% for OBC category and 40% for ST/SC candidates)
WHY ALLIANCE UNIVERSITY?
25+ Years of Legacy in Transformative Education
30,000+ Alumni across the globe
600+ Top MNCs as recruiting partners
250+ Global faculty with diverse experiences
70+ Study abroad options
60+ Acres of green campus
Approved by Bar Council of India, New Delhi
Recognized by University Grants Commission (UGC), New Delhi
Awarded the Best Education Brand 2022 by The Economic Times
Alliance School of Law is committed to imparting unmediated practical legal experience. Inculcate problem-solving skills, critical thinking, and applied knowledge amongst students to make them stand out in the legal landscape. Through various research centres and the legal aid clinic, students get a hands-on experience with drafting, pleading, client counselling, trail advocacy and conveyancing.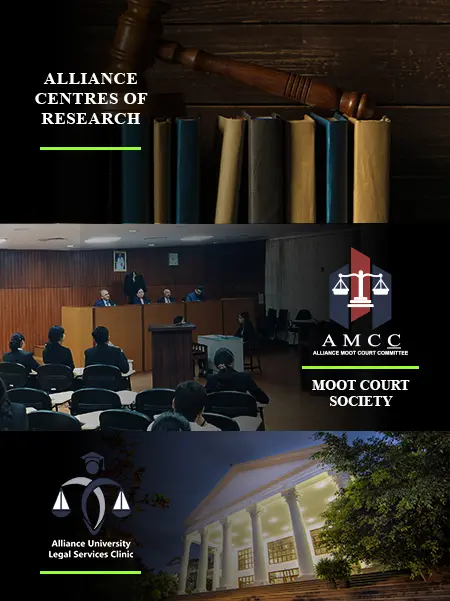 Alliance Moot-Court Committee
Aimed at creating brilliant advocates of justice by providing various opportunities at Intra-College, National and International levels.
Alliance Centres of Research
Criminal Justice Administration and Gender Studies
Alliance Centre of Corporate and Commercial Law
Alliance Centre of Alternate Dispute Resolution
Alliance Centre on Global Affairs and International Relations
Alliance Centre on Constitutional and Administrative Law
Alliance Centre on Intellectual Property Rights
Alliance University Legal Services Clinic
Authorized by the District Legal Services Authority Kalburgi and Karnataka State Legal Services Authority, the legal services clinic is aimed at delivering justice and free legal aid to the needy.
CONFERENCES & PUBLICATIONS
Lex ET Mutatio:
A book focused on the interplay of law and society
International Journal of Law and Social Sciences (IJLS):
A peer-reviewed, interdisciplinary journal
A peer-reviewed, interdisciplinary journal:
An annual endeavour aimed at achieving excellence in Legal Research
5
INFRASTRUCTURE THAT INSPIRES YOUR CREATIVITY
The infrastructure of Alliance University supports and fosters creative thinking and problem-solving, including things like well-equipped labs, a library and learning center, access to cutting-edge technology, and flexible and open spaces for collaboration and experimentation.
TESTIMONIALS
Alliance is a great place to learn because of its professional approach in educational as well as other activities likes sports. There is a great friendly and calm atmosphere helping individuals perform at their full potentials.
ABHIJIT ROY, B.B.A. LL.B. (Hons.) | 2017- 2022 | Arenes Legal
I cleared my Judicial Services Exam, and the huge part of my success story is Alliance University. At Alliance, the nurturing environment, which includes, helpful peers, highly qualified lecturers and the positive atmosphere helped me unlock my true potential. I'm glad to have been a part of Alliance where I could explore remarkable opportunities and at the same time have fun facing the challenges.
MEDHA P.M., B.A. LL. B. (Hons.) | 2015-2020
Five years at Alliance School of Law have been an invaluable experience of learning and growing. Learning at Alliance always extended beyond classrooms to prepare us for the real-world scenarios. The additional efforts taken by the professors has shaped my career in ways more than I had ever imagine.
Nandhini S. Patil, Associate | Keystone Partners | Advocates and Solicitors | B.B.A. LL. B. (Hons.) | 2017-22
My journey with Alliance, the most beautiful university in terms of infrastructure and greenery, was nothing less than a great learning experience and I owe my success entirely to Alliance University for grooming me well and helping me transform.
Aprajita Mazumdar, Legal Analyst (Privacy) | Ameriprise Financial Services, LLC | B.A. LL. B. (Hons.) | 2016-21
Whenever I think of my alma mater, I remember fun accompanying the learning process. Alliance was truly a life-changing experience for me where I spent the best time of my life.
Jayananthini T., Price Waterhouse Coopers | B.A. LL. B. (Hons.) | 2017-22
I have received tremendous support throughout my course at Alliance in terms of guidance from faculty, avenues, hands-on training, and career assistance. Here, you become part of a family that is focused on one common goal—excellence.
Keerthana B.P., Legal-Management | Trainee at HDFC Limited | B.A. LL. B. (Hons.) | 2016-21
CONTACT US
Alliance University, Central Campus, Chikkahagade Cross, Chandapura - Anekal Main Road, Bengaluru. Get Route Map