KSLSA Internship Report (July, 2022)
1-30 July, 2022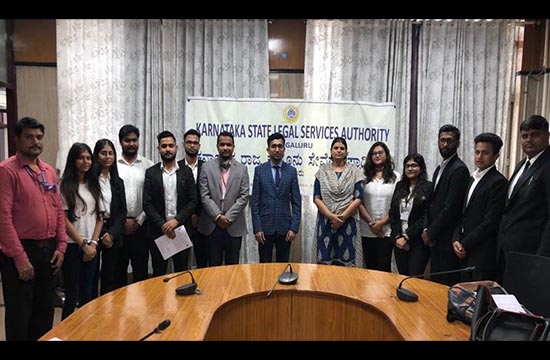 From July 1st to July 30th, 12 interns from Alliance University, School of Law, interned with Karnataka State Legal Services Authority. This was coordinated by Prof. Shreshth Bhatnagar and Prof. Mahantesh. During this period, the interns worked within various departments such as the POSCO Department, the Writ Petition Department, the Victim Compensation Department, the Public Relations Department, the Women & Child Welfare Department and so on.
During the first week of the internship, the interns were allotted various types of legal work such as making reports of the progress made by KSLSA in implementation of their NALSA schemes. Interns were involved in the day-to-day operations of KSLSA, aiding in field work, wherein interns surveyed whether the 'School on Wheels' programme was running or not. Further, interns also got to visit the National Forensic Science Laboratory in Madiwala.
During this visit, interns of KSLSA (Ramaiah Students as well as Jindal Students) got the opportunity to understand the role of the forensic science laboratory in unearthing evidence, and how they are part of investigative & legal aspects of a case. Interns visited the Biology, Chemistry, Physics, Firearms/Ballistics, Toxicology, Psychology and Narcotics Divisions and were briefed on how each branch functioned. This proved to be informative and exciting to learn.
Interns also had the opportunity to observe Family Court's proceedings. It was informative and was an amazing chance to know first-hand what the lawyers deal with in their litigation work, how they work with their clients, and how judges hold their sessions in the court during the third week of the internship. On July 30th, the period of internship came to an end. The takeaway from this internship with Karnataka Legal Services Authority is that the service they give to the community as their responsibility is truly the state machinery in their best element.