Conference Overview
The Model United Nations Society (MUNSOC) of Alliance School of Law takes immense pleasure in inviting students from all streams, branches and levels to participate in Alliance University Model United Nations Conference. The current difficult times brought upon us by the ongoing pandemic has once again reminded the world of the essence of international co-operation and co-ordination. The need for mutual reliance, feeling of oneness and search for global solutions have been put back in focus by the turbulent times we live in.

In a world that is becoming increasingly hostile, overtly political, and unfairly exclusionary; it is not only essential for upcoming academicians and students to be aware of international issues, but the need of the hour is to enable them to take an active role in debating and policy-making around these issues. We, at Alliance University, Alliance School of Law have always emphasized upon the importance of international organisations, maintenance of international relations and protection of human rights. Hence, Alliance University Model United Nations Conference (AUMUN) provides an excellent platform for our esteemed delegates to discuss, debate, and deliberate upon fundamental and pertinent international topics.

It is said that any war is a failure of diplomacy. Here, at AUMUN and Alliance University, we intend to help prepare the leaders of tomorrow for a world that is peaceful, inclusionary, and tolerant.
Click on the Committee to view Agenda
Committee
Position
Name
Educational Institution
Lok Sabha
Speaker
Mr. Mukund Kadlabal
PES University, Bangalore
Deputy Speaker
Mr. Uddeshya Pandey
School of Law, Christ University, Bangalore
GA-6 Legal
Chairperson
Ms. Khushi Malik
University of Waterloo, Canada
Vice-Chairperson
Mr. Nikhil Rajkumar
University of Massachusetts, Amherst
GA-1 DISEC
Chairperson
Dr. Ankita Mishra
Bharati Vidyapeeth Deemed University Medical College, Pune
Co-Chairperson
Mr. Dhruv Qureshi
Dr. D. Y. Patil Medical College, Pune
FIFA
Chairperson
Mr. Abhinav Mohanty
University of Edinburgh, Scotland
Co-Chairperson
Mr. Unnayan Mishra
NALSAR University of Law, Hyderabad
Delegate Registration:
Country Matrix:
Link for choosing country portfolios for different Committees- Needed at the time of filling Registration Forms by Applicants.

Country Matrix
Payment of Fees:
BANK DETAILS

Registration Fee: Rs. 350/- per Delegate
No extra fees for Group Delegations
Alliance students are exempted from payment of Registration Fee

Payment to be made via demand draft or wire transfer, drawn in favour of:
Beneficiary Name:
ALLIANCE UNIVERSITY
Bank Name:
Punjab National Bank
Account Type:
Current Account
Account No.:
1202005900000014
IFSC:
PUNB0477400
Branch Address:
HSR Layout, Bengaluru
Swift Code:
PUNBINBBDIB
| | |
| --- | --- |
| REGISTRATION OPENS | JUNE 23, 2021 |
| REGISTRATION CLOSES | JULY 19, 2021 |
| CONFERENCE DATES: | JULY 24 - 25, 2021 |
| PLATFORM | ZOOM |
Rules & Regulations
Each participant must be registered as a student in an educational institution.
Applications are invited from all school and college students (from Class VIII onwards).
All delegates are to maintain decorum and follow instructions given by their respective Executive Board members during the virtual Committee meetings.
All delegates must join the Zoom meetings as per the schedule and be present in Committee during all sessions, failure to attend any one session will result in disqualification from placements and the delegate will not be considered for any awards thereof.
In case of any conflict final decision lies solely with the Organising Committee.
At the time of allotment, all delegates will receive a Liability Waiver. Participants agree to be bound by the conditions of Liability Waiver to ensure adherence to online safety protocol.
By registering for AUMUN 2021 delegates agree to the above rules and guidelines.
Awards & Certificates
E-Certificates for all Winners
E-Certificates for participation to all delegates
Gift Vouchers upto Rs. 2,500/- per Committee
CHIEF PATRONS
Mr. Abhay Chebbi, Pro Chancellor, Alliance University
Dr. Anubha Singh, Vice-Chancellor, Alliance University
Dr. Ray Titus, Pro Vice-Chancellor (Academics & Research)
ADVISOR
Prof. (Dr.) Kiran Gardner, Dean, Alliance School of Law
FACULTY CO-ORDINATORS
Prof. Apoorva Tomar, Assistant Professor, Alliance School of Law
Prof. Abhishek Srivastava, Assistant Professor, Alliance School of Law
Prof. Abhilash Arun Sapre, Assistant Professor, Alliance School of Law
STUDENT SERVICES CO-ORDINATORS
Dr. Varender Singh Patial, Director, Student Support Services
Mr. Chitradeep Chakraborty, Senior Manager, Student Support Services
STUDENT CO-ORDINATORS
Arkadeep Pal, Secretary General
Paarth Samdani, Director General
Ashmita Mitra, Under Secretary General – Academics
Varun Nair, Under Secretary General – Outreach
Chaitanya Chaman, Under Secretary General – Finance
Oleina Bhattacharya, Under Secretary General – Design
Queries
Prof. Apoorva Tomar: apoorva.tomar@alliance.edu.in
Prof. Abhishek Srivastava: abhishek.srivastava@alliance.edu.in
Prof. Abhilash Arun Sapre: abhilash.sapre@alliance.edu.in
Student Convenors
Paarth Samdani: +91 80075 04772, spaarthllb18@law.alliance.edu.in
Arkadeep Pal: +91 97314 45903, parkadeepllb18@law.alliance.edu.in
Varun Nair: +91 98194 42209, nvarunllb18@law.alliance.edu.in
Ashmita Mitra: +91 98046 53977, mashmitaLLB18@law.alliance.edu.in
Oleina Bhattacharya: +91 86938 82620, boleinaLLB18@law.alliance.edu.in
ALLIANCE UNIVERSITY
---
Alliance University is a Private University established in Karnataka by the State Act No.34 of year 2010. The University is jointly recognized by the University Grants Commission (UGC), New Delhi, Bar Council of India (BCI) and the All India Council for Technical Education (AICTE), New Delhi. Alliance University with a vibrant and picturesque campus in Bengaluru, one of the fastest growing cities in India, off¬ers more than 20 undergraduate and postgraduate majors to approximately 7000 students of diverse backgrounds. Alliance Education, de ned by excellence in the areas of Business Administration; Engineering; Legal studies and guided by the core values of the University, has shaped the lives of over 20,000 very successful alumni across the globe.
Alliance School of Law
---
Alliance School of Law, Alliance University is approved by the Bar Council of India (BCI), New Delhi. The Alliance School of Law o¬ffers five-years integrated undergraduate courses in law, viz., Bachelor of Arts, Bachelor of Law Honors—B.A. LL.B.(Hons.) and Bachelor of Business Administration, Bachelor of Law Honors—B.B.A. LL.B.(Hons.) The courses have been carefully crafted and designed to prepare its graduates for rewarding careers for various roles and responsibilities in legal service organizations. Alliance School of Law also off¬ers a full-time, one-year Master of Law (LL.M.) degree with specializations in Constitutional & Administrative Law, Corporate & Commercial Law, Intellectual Property Law, Criminal Law and Securities Law. The LL.M. programme is designed to develop strong research expertise in law and legal principles. Alliance School of Law also off¬ers Ph.D. programme. The Law School has established various centres for advance legal studies and research namely Alliance Centre for Intellectual Property Rights, Alliance Centre for Criminal Justice Administration, Alliance Centre for Alternative Dispute Resolution and Alliance Centre for Corporate and Commercial Laws. The school has been instrumental in facilitating engagements with various sections of society for deliberations over variety of socio-legal issues through publications of its flagship journal, International Journal of Law and Social Sciences, which provides strong research base to the school of law.
Contact Us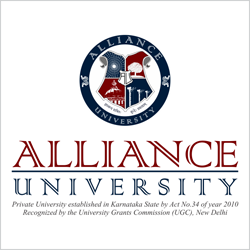 Alliance University
Central Campus
Chikkahagade Cross, Chandapura - Anekal Main Road,
Anekal, Bengaluru - 562106, Karnataka, India
City Campus
2
nd
Cross, 36
th
Main, Dollars Scheme,
BTM 1
st
Stage, Bengaluru – 560 068, Karnataka, India
Phone Numbers: +91 80 4619 9000 | 9100 | +91 80 4129 9200
Email: amunc@alliance.edu.in